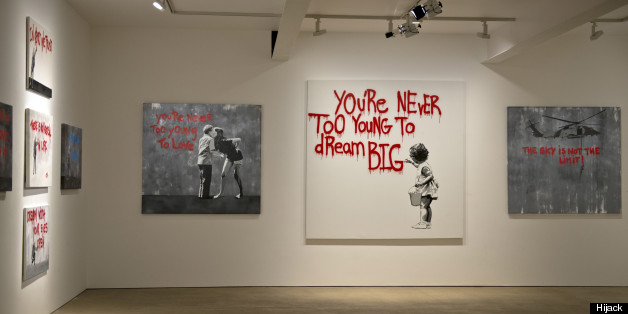 Last week saw the London unveiling of a brand new artist, at the prestigious Mead Carney Gallery in Mayfair, and there's already talk, not least the question being asked... is this the new Banksy?
At only 20, Hijack has already received considerable attention. His piece 'You're Never Too Young To Dream Big' has had people asking who he is, and whether this is Banksy back at work...
The answer is no, it's not; instead, it's the work of Hijack, the son of Mr Brainwash, himself the subject of controversy in the art world... if he existed at all, a question asked by some.
Mr Brainwash was the subject of Bristol superstar Banksy's 2010 documentary Exit Through The Gift Shop, charting the rise of this French filmmaker-turned-street artist - real name Thierry Guetta. It proved to be a career break for him, with his work going on to sell for small fortunes, but some remained convinced he was purely a conceit through which Banksy could poke fun at the hype integral to the art world.
The private view of this exhibition last week proved that Mr Brainwash does, indeed, live and breathe, and is intent on creating a legacy, not least through his own offspring.
HIJACK/BRAINWASH POP UP SHOW
SUBSCRIBE TO & FOLLOW UK ENTERTAINMENT