Several beloved pigs have been found dead at a popular tourist destination in the Bahamas leading to claims that rowdy visitors gave the animals alcohol.
It is believed that only 15 pigs are still alive after seven died from an undetermined cause earlier this month. 
The swimming pigs have become a tourist attraction and often draw large crowds to the Bahamas' Big Major Cay.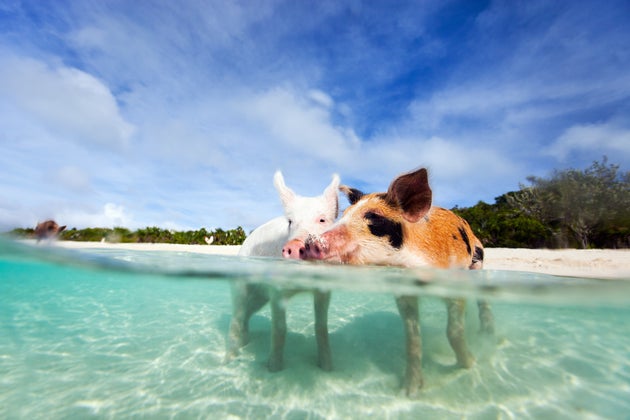 Wayde Nixon, the pigs' owner, said the animals "were given the wrong food" and blamed tourists for giving them alcohol.
Although he is convinced the incident will not stop people visiting the island, he said that security will be bolstered.
He told The Nassau Guardian: "We had them pigs there almost 30 years, and never has this happened before, but now we are going to have to regulate it.
"Right now it's blowing out of proportion with people, anybody bringing food there, anybody doing what they [want to] do.
"We have people coming there giving the pigs beer, rum, riding on top of them, all kind of stuff.
"That never happened, but lately [it has] because it's so big, and we are never really there all the time."
He said that his family will help to regulate it, along with assistance from the government "so we won't have this problem anymore".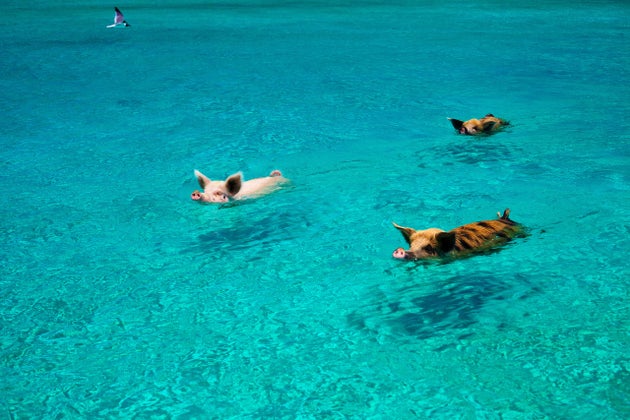 Elisa Allen, Director of Peta UK, said: "Pig Island is no paradise for pigs. They're not native to the Caribbean, and their pale, sensitive skin can easily burn when exposed to the strong sunshine day after day. With little vegetation on the island, they rely on food from tourists – some of whom have purportedly been plying them with alcohol.
"To control their populations, adult pigs are reportedly slaughtered to make way for babies – a fact which, of course, doesn't make it into the Instagram snaps.
"Peta reminds travellers to walk in the other direction whenever they see people making money from an animal 'attraction' and instead choose one of the countless humane activities available in every part of the world – such as going to a national park to see animals living free in their natural homes.
"By doing so, we can return home from our holidays with great memories – and a clear conscience."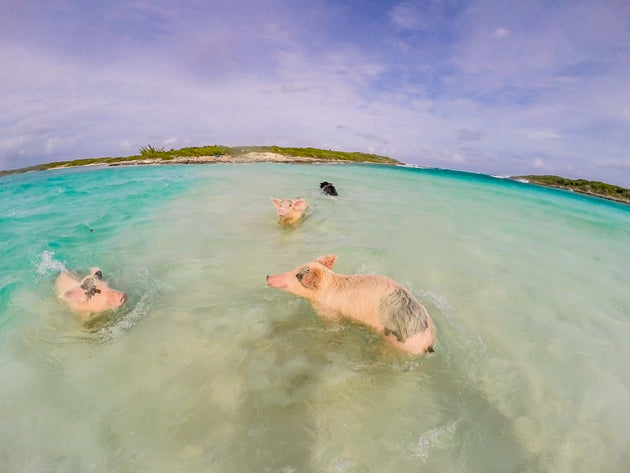 The Bahamas' official Ministry of Tourism website does not dissuade tourists from feeding the animals. 
A statement on the tourism page reads: "It is impossible for them to fly, but in The Exumas, they can swim. Just north of Staniel Cay on an island of their own called Big Major's Cay, live a drove of pigs. 
"Initially, residents relocated these animals to Big Major's Cay in anticipation of a major down-turn in the economy during the Gulf War. 
"When unsuspecting visitors stopped by to snorkel or swim at Big Major's Cay, they were greeted by a welcoming drove of pigs. 
"As they fed these harmless, sociable creatures, it became a habit for them to come out of the coppice at the sound of a motor with the anticipation of getting some food."
SUBSCRIBE TO & FOLLOW UK DAILY BRIEF