Around 13 millions drivers will take on the roads this weekend and airports, bus and railway stations are also expected to be overwhelmed with passengers from today as the Bank Holiday getaway begins.
The busiest single day for motorists embarking on leisure journeys is expected to be Saturday, when 10 million drivers will get behind the wheel.
According to Transport information supplier Inrix, hotspots to avoid including sections of the M25, M6, M4 and M27.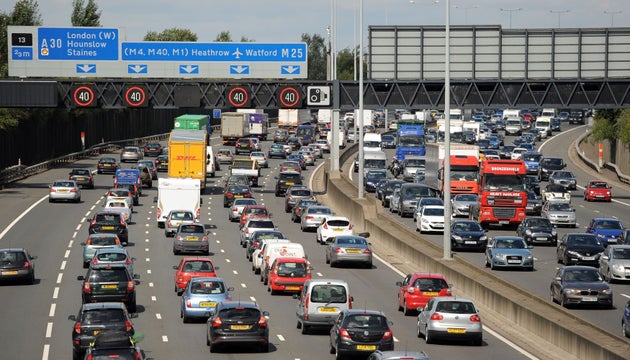 Earlier this week Inrix traffic analyst Greg Hallsworth predicted "carmageddon" would blight the holiday weekend, with "the worst congestion in recent years" expected.
National tourism agency VisitEngland said an estimated 5.1m people will take a break within the UK, generating around £1.3 billion for the British economy. A further two million are expected to head abroad.
Inrix said some stretches of road could have twice as many vehicles this weekend compared compared to normal.
Compounding the problem is a number of music festivals are taking place, including Reading and Leeds, Creamfields in Cheshire and CarFest South in Hampshire.
Max Holdstock, AA patrol of the year, warned that traffic jams will build up around large events and urged people to carry extra water in their vehicles because of the warm weather.
"August Bank Holiday weekend is always a bit of a mad scramble on the roads," he said.
"Traffic is likely to build up on Friday evening as people set off early to make the most of the weekend, and will be busy again for the return on Monday afternoon - so allow plenty of extra time if you're travelling then.
"Routes to the South West and the coast are usually among the busiest, particularly with hot weather forecast; and there will be localised congestion around events, especially at finish time.
"It's a good idea to plan an alternative route in case of delays and carry plenty of water - at least a litre per person."
Highways England announced that almost 98% of England's motorway and major A roads will be clear of roadworks over the weekend.
Some 373 miles of roadworks were either completed or suspended ahead of the holiday.
Hundreds of thousands of people will travel by coach, with operator National Express announcing it will be its busiest weekend of the year.
The company said that every one of its full coaches takes a mile of traffic off the roads.
But congestion could be boosted with nearly 1,000 engineering projects being carried out across Britain's rail network, meaning some lines will be closed.
Major work is taking place to upgrade signalling in the Bristol area, affecting Great Western Railway passengers.
Other work includes track replacement disrupting services between Milton Keynes and Rugby, and rail replacement buses operating between Preston and Bolton due to a project to electrify the railway through Chorley.
Network Rail's route managing director, Martin Frobisher, said: "Work takes place 365 days a year as part of our Railway Upgrade Plan but we carry out larger upgrades over bank holidays when there are fewer passengers travelling."
Travel organisation Abta estimated two million Britons will head abroad between Friday and Monday.
Airports will be busy, with Heathrow expecting more than 440,000 passengers to depart over the last long weekend before Christmas.
Abta chief executive Mark Tanzer said: "This weekend is the traditional curtain closer for the peak summer months and it is always a very busy weekend for travel, with millions taking advantage of the long weekend to head off overseas.
"With the roads predicted to be extremely busy, holidaymakers should make sure that they leave plenty of time to get to their port of departure."
These are the top 11 congestion hotspots to avoid over the Bank Holiday weekend (expected delay in brackets), according to Inrix:

1: M25 between J9 Leatherhead and J21 Winch Hill Wood (90 minutes)

2: M5 southbound from J14 Thornbury and J22 Highbridge (90 minutes)

3: M25 between J4 Orpington and Dartford Tunnel (50 minutes)

4: M27/A31 between Southampton and Ringwood (50 minutes)

5: M4 westbound from London to the West Country (50 minutes)

6: M6 between J19 Knutsford and J22 Warrington (45 minutes)

7: M6 northbound from Keele to Knutsford (40 minutes)

8: A303 westbound from Andover to Amesbury (40 minutes)

9: M5 between J4a Bromsgrove and J7 Worcester (30 minutes)

10: M25 between J29 Codham Hall Wood and the QEII Bridge (30 minutes)

11: M60/M62 between J8 Carrington and J20 Rochdale (20 minutes)
SUBSCRIBE AND FOLLOW
Get top stories and blog posts emailed to me each day. Newsletters may offer personalized content or advertisements.
Learn more