BRIDGET JONES' BABY - *****
WHAT WE SAY:
We live in the era of the rebirth. Reprise, reboot, revamp, call it what you will… TV and film execs alike are staking their immediate futures on viewers' love for the past.
This trend has had mixed results. Not many would argue that the return of Derek Zoolander to the big screen was nobody's finest hour, while last night's return of 'Cold Feet' was heralded a triumph. The Ab-Fabbers fell somewhere in between, and it'd be kinder not to dwell on the experiment of the BBC vintage sitcoms.
Fortunately for cinema-goers, 'Bridget Jones' Baby' sits nearer the 'Cold Feet' end of the spectrum. The new film finds Renee Zellweger reinstalled as London's most lovelorn singleton, who in the intervening years has somehow carved out a career as a serious news producer, while remaining in her boho Borough flat, with the same friends and a whole bunch of new romantic problems.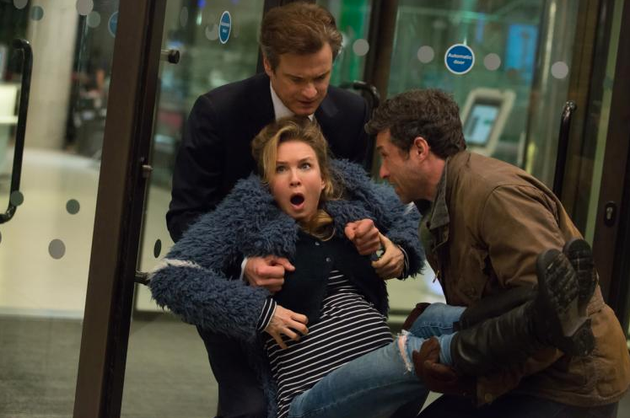 After a love drought of undescribed length, a trip to a music festival and a reunion at a christening finds Bridget pregnant with not one, but two possible fathers. While one is the insufferably charming billionaire matchmaking guru Jack Qwant (Patrick Dempsey), the other is, inevitably, her old crush Mark Darcy (Colin Firth).
Ensuing pregnancy slapstick, jokes you can spot a mile off and comedy capers abound, as Bridget absorbs the prospect of impending motherhood and the decision of who will be by her side. But there also dawns a sweetness in the tale, that it is possible to mess up royally throughout your twenties and beyond, and nevertheless redeem yourself at some point, with good friends, a bottle of wine and a robust thread of hard-won integrity.
No, neither of the stars look the same as they did before, but neither will their loyal audience, who've been watching Bridget in action since the first Diary days of 2001. By the final reel, they and fresh fans will all be rooting for her.
WHAT THE OTHERS SAY:
Daily Mirror...
"Zellweger is reliably watchable, both dotty and adorable, while there's sterling support from Emma Thompson as her GP, urging Bridget to "Bring along the father, if you can work out which one he is." Note to self: watch at all costs."
The Telegraph...
"Bridget's back in a comeback that you root for, even while it's wobbling and occasionally falling in the mud."
The Independent...
"For all its foibles and occasional missteps, Bridget Jones's Baby marks a very welcome return for a character who, all these years on, hasn't lost her neurotic charm in the slightest."

Daily Mail's Brian Viner
"A worthy completion of the trilogy –assuming it is to stay a trilogy, and that we are not likely to assemble again one day for Bridget Jones's Dentures."

The Hollywood Reporter's Leslie Felperin...
"If nothing else, Bridget Jones's Baby can bask in the glory of being a less dismal than usual reboot of an aging franchise." (what you might term 'faint praise')

Variety's Catherine Bray...
"It's not a comedy for the ages, but it's interesting to see a rom-com starring a middle-aged woman grappling with irrelevance in the workplace... That this is a song sung in a slightly more pensive, even at times melancholy, key than the first parts of the trilogy shouldn't hurt the film's appeal at the box office."

Bridget Jones's Baby is in UK cinemas on September 16
SUBSCRIBE AND FOLLOW
Get top stories and blog posts emailed to me each day. Newsletters may offer personalized content or advertisements.
Learn more