Chancellor Philip Hammond today scrapped plans to increase National Insurance rates for millions of self-employed workers.
In a letter to Tory MPs this morning, the Chancellor said the 2% rise was being scrapped as it breached a manifesto pledge not to increase National Insurance.
Hammond wrote: "In light of what has emerged as a clear view among colleagues and a significant section of the public, I have decided not to proceed with the Class 4 NIC [National Insurance Contribution] measures set out in the Budget.
"There will be no increases in NICs rates this Parliament.
"We will continue with the abolition of Class 2 NICs from April 2018. The cost of the changes I am announcing today will be funded by measures to be announced in the Autumn Budget."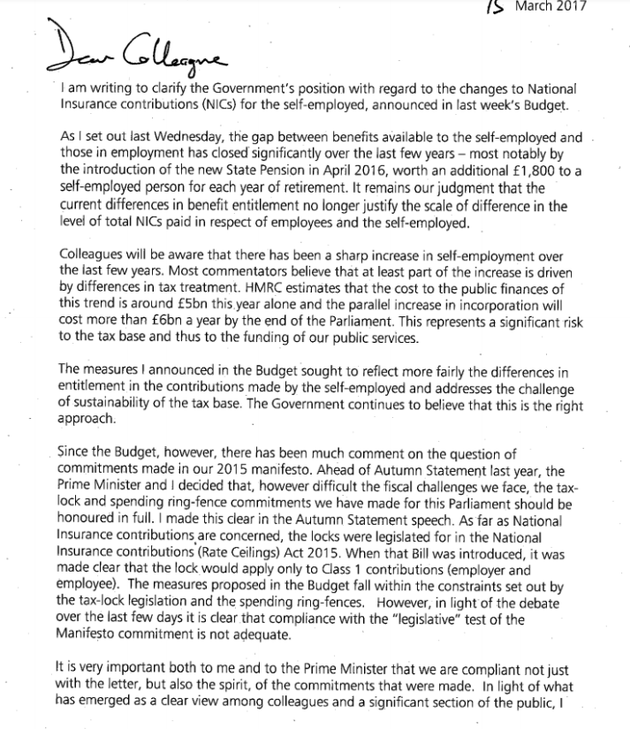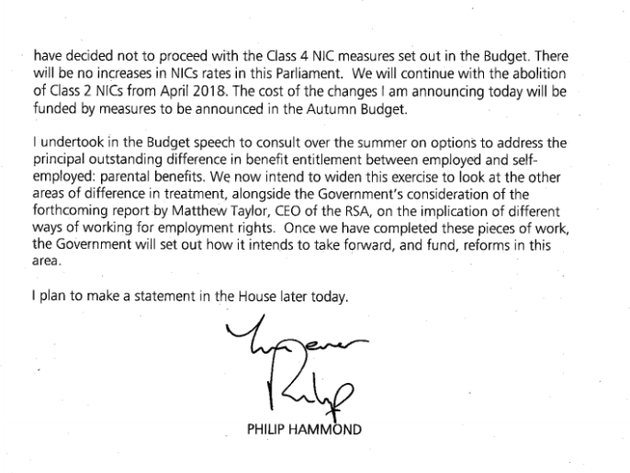 Within minutes of Hammond announcing the NIC rise for 2.5million self-employed workers last Wednesday, the Chancellor was under fire for breaking a clear Tory manifesto pledge.
"I've had to ask the self-employed to pay a little bit more National Insurance in order to make a fair contribution for the services that they receive from Government," he said.
However, as a growing number of Tory backbenchers demanded a u-turn, Prime Minister Theresa May said the policy would not be voted on until the Autumn.
Today, the Chancellor argued that while the NICs rise did not breach the tax lock put into law after the 2015 election, it was not within "the spirit" of the manifesto pledge.
Tory MPs took to Twitter to welcome the news:
Labour MPs also took to Twitter to accuse the Government of descending into chaos:
Lib Dem leader Tim Farron said: "So the Chancellor has now U-turned after breaking a promise in the Conservative manifesto. Perhaps he will now U-turn on another broken election commitment to keep us in the Single Market.
"If he really is worried about the £2bn black hole this leaves in his Budget, he should announce that he wants Britain to remain in the Single Market, which will leave him a further £100bn black hole.
"It is good that the Chancellor has bowed to the inevitable after his omNICshambles Budget, but he is still committed to a policy that will do monumental harm to the UK economy.
"The Conservatives have bodged every budget since the election and have lost the right to call themselves the party of business. They are simply not thinking about the 'just about managing' who are struggling with the Brexit squeeze."
Labour's Shadow Chancellor John McDonnell said millions of self-employed workers would now be breathing a "sigh of relief" and called the u-turn a "humiliating reversal".
He said: "Did the Prime Minister or the rest of the Cabinet, who must have seen the Budget in advance and known this measure was to be implemented, raise their concerns with the Chancellor before he announced it, worrying millions of families?
"It was in the weekend papers before the Budget so they can't say they were unaware it was to happen."
SUBSCRIBE TO & FOLLOW UK POLITICS