According to the event's Facebook page, more than 1,000 people said they would be attending the demonstration at Byron's High Holborn branch - which was closed due to "technical reasons". A sign posted on the restaurant's door made no reference to the protest.
The anger stems from allegations the firm helped the Home Office deport some staff by asking them to attend a training session before being asked to move to a separate room where immigration officials were waiting. Critics claim this amounts to 'entrapment'.
The Home Office said 35 people from Albania, Brazil, Nepal and Egypt were arrested for immigration offences at a number of restaurants across London.
As the protest was scheduled to begin, the firm posted a statement on its Twitter feed that it had been handing to the media - suggesting it was acting on Home Office "requests".
Part of the road was closed and a strong police presence was in place during the protest. A Metropolitan Police Service spokesman said it had an "appropriate policing plan in place". Placards waved included "Shame On You Byron Grass" and "Deportation: Burger Off".
The protest was co-hosted with the Unite Hotel and Restaurant Workers Branches, the United Voices of the World Union, London Latinxs, Black Dissidents, London IWW, Lesbians and Gays Support the Migrants, South London Solfed, War On Want and Global Justice Now. 
Petros Elia, general secretary at United Voices of the World Union, told the Huffington Post UK: "If it was a choice between dismissing these workers or entrapping them then absolutely they should have dismissed them". 
READ MORE: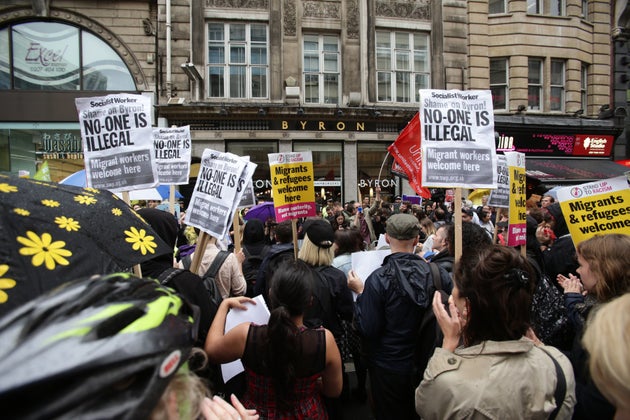 SUBSCRIBE TO & FOLLOW UK DAILY BRIEF