Oscar-nominated actress Carey Mulligan says the UK's "inaction" over the refugee crisis in France has left her feeling "ashamed to be British".
The 31-year-old was speaking ahead of a global summit on the crisis dubbed the New York Declaration on Migrants and Refugees.
Mulligan, who is an ambassador for the charity War Child, told The Telegraph: "There is literally no excuse for what is going on there. It's shameful.
"And I'm very proud to be British, and think we do great things, and it is worth remembering we are one of the biggest donor countries.
"But because of our inaction when it comes to 600 unaccompanied minors in Calais, it makes me ashamed to be British."
Around the world, there are currently about 21.3 million refugees, 3.2 million asylum seekers, and 40.8 million migrants, according to the UN Refugee Agency. The agency defines refugees as people forced to flee due to armed conflict or persecution, while migrants choose to move in search of a better life.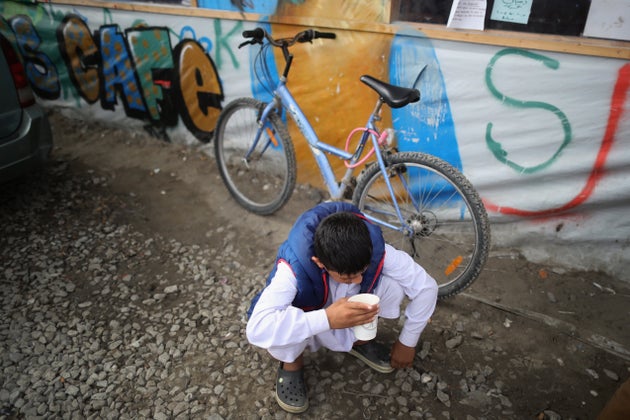 Last month Prime Minister Theresa May was branded "a complete disgrace" after the Home Office won a court ruling that will, campaigners warned, make it harder for unaccompanied child refugees to escape the squalid Calais "Jungle" camp.
The Home Office's victory in the Court of Appeal strikes down an earlier landmark judgment that held four refugees, including three children, living in the terrible conditions at the camp could bypass the lengthy legal process of applying for asylum in France and then Britain and brought here immediately.
The original judgment said the length of time it was taking meant the refugees' human rights were breached.
It was hailed by those working to bring the scores of unaccompanied children over as a watershed for doing this quicker, as the process was taking nine months at the time.
But the Court of Appeal held the process could not be bypassed, preserving the current, lengthy process.
It means it will take longer to legally bring the estimated 150 children in the camp seeking to be reunited with family in Britain to UK shores, as conditions in the camp deteriorate and winter looms.
The solution, Mulligan believes, is: "For applications not to languish for months and month and months for children who have the right to be in the UK, reunited with family members.
"Or for vulnerable children to be immediately reunited with their families and taken care of."
Earlier this month it was revealed a "big, new wall" is to be built in Calais in an effort to halt the flow of refugees and migrants crossing the Channel to the UK aboard lorries.
Construction of the four-metre high, one-kilometre long concrete structure will begin this month, immigration minister Robert Goodwill told MPs on last week, with the project costing £1.9m.
It has already been dubbed the "Great Wall of Calais".
Goodwill said: "People are still getting through. We have done the fences. Now we are doing the wall.
"The security that we are putting in at the port is being stepped up with better equipment."
Just over 84,000 migrants were stopped last year by UK Border Force guards on French soil according to figures released last month.
The wall will stretch either side of the ferry port's main dual-carriageway approach road where those seeking to reach Britain attempt to climb aboard lorries passing through.
It will be made of smooth concrete in an effort to prevent people scaling it and will replace the current fence.
SUBSCRIBE AND FOLLOW
Get top stories and blog posts emailed to me each day. Newsletters may offer personalized content or advertisements.
Learn more