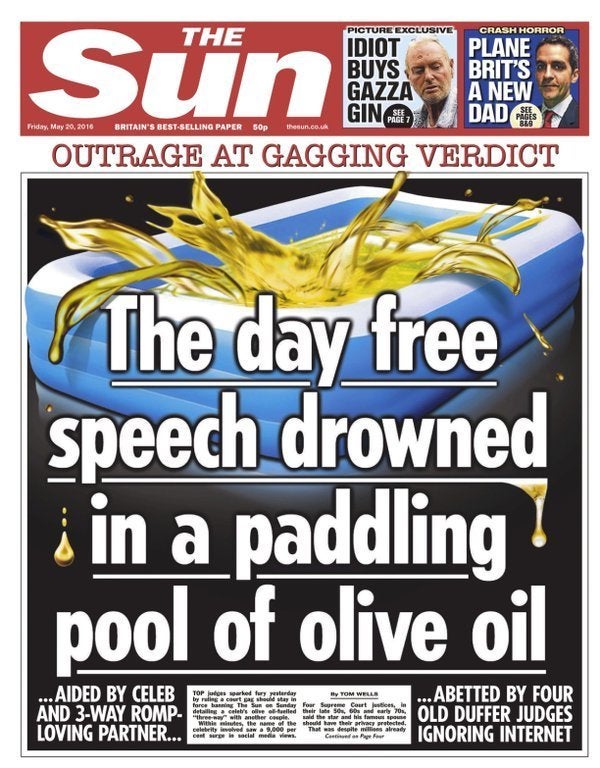 The celebrity threesome injunction upheld by the Supreme Court has been met with fury from British press, with papers describing it as 'idiotic', 'illegal' and a 'mockery'.
The Sun's front page lead with the headline 'The day free speech drowned in a paddling pool of olive oil' - a reference to the details of the sex the celebrity 'PJS' had with another couple despite being married to the world-famous 'YMA'.
The press in England and Wales remain unable to to identify either of them, thanks to the injunction.
This is despite the pair being named in media across the world, including a US magazine, a Scottish newspaper and the Australian press, to say nothing of people on social media naming them.
The judgment said maintaining the injunction would help protect the couple's privacy.
In an editorial, The Sun, whose Sunday sister paper brought the case for the injunction to be lifted, called the ruling "idiotic and illogical" and said the judges were "out-of-touch old duffers with a predictably contemptuous snobbery towards popular papers and our millions of readers".
"Most people who care already know the names... their case against The Sun on Sunday is discussed in homes, pubs and at school gates throughout the land," it said.
"Last month one in four Brits knew their IDs. Imagine that percentage now."
The Telegraph put the court decision on its front page, accusing the judges of introducing a 'privacy law', quoting barrister Adrienne Price who called the ruling "the strongest statement we have had from the highest court in the land on this, ever ... It could mean the end of the kiss and tell story."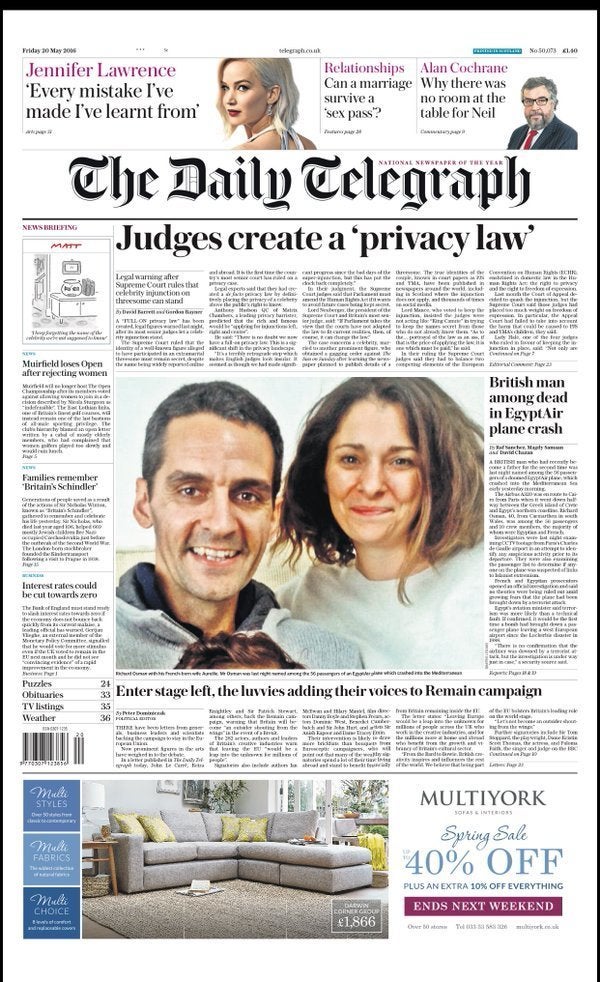 The Daily Mail, which previously shouted 'The Law is an ass!' on its front page about the case, called it a "mockery" in an editorial within the paper.
It said: "Celebrities who spend millions on their PR, can now spend further millions slapping an injunction on any newspaper which threatens to expose the sordid reality of their lives."
Mysteriously, the tabloid chose to put no reference to the the court's decision on its front page.
The judges did not seem to mind the Mail's position on the injunction. In their ruling, they said: "As to the…portrayal of the law as an ass, if that is the price of applying the law, it is one which must be paid."
SUBSCRIBE TO & FOLLOW UK DAILY BRIEF
Get top stories and blog posts emailed to me each day. Newsletters may offer personalized content or advertisements. Learn more