Children who frequently use social media are more unhappy with their appearance, a study has found.
Almost half (48%) of those who spent more than three hours a night on Facebook and Twitter were unhappy with their looks, according to the survey of 3,500 10- to 15-year-olds, carried out as part of a longitudinal study by the University of Essex.
This was compared to 18% of children in the same age group who didn't go on social media networking sites.
Commenting on the findings, Nick Harrop, campaigns manager at YoungMinds told The Huffington Post UK: "Social media puts pressure on teenagers to live their lives in the public domain, to present a personal 'brand' from a young age, and to seek reassurance in the form of likes and shares.
"Cyberbullying is also a fact of life for many young people."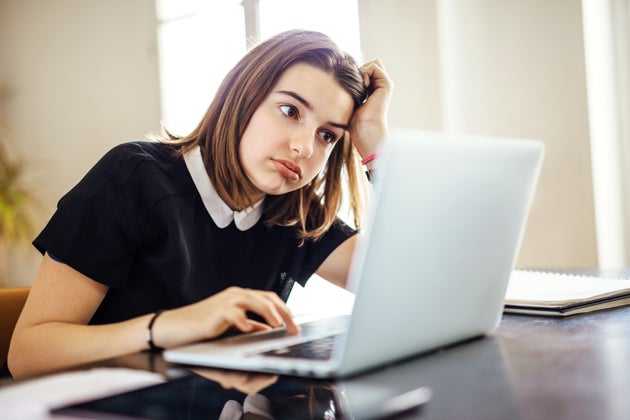 The figures are drawn from a survey of 40,000 UK households - 'Understanding Society' - supported by the Government. Alongside the adult surveys were questionnaires for children, aged 10 to 15, looking specifically at their wellbeing.
Responses from the children's questionnaires also found 44% of children who are online for more than three hours, fought with their parents more than once a week.
Children who frequently went on social media were twice as likely to admit they misbehaved in class. And 17% of the heavy social media users said they were bullied "a lot" or "quite a lot", compared to 11% of non-users.
The researchers noted one positive finding from heavy social media users. They said 90% of children who used social media a lot said they wanted to go to university, compared to 82% of children who never used social media.
Harrop added: "It's important to remember that the online world also offers huge social and emotional benefits, and that many young people with mental health conditions go online to reach out for support."
11 Women Who Made A Difference Using Social Media
SUBSCRIBE AND FOLLOW
Get top stories and blog posts emailed to me each day. Newsletters may offer personalized content or advertisements.
Learn more