The Daily Mail has prompted immediate condemnation on social media after featuring Theresa May and Nicola Sturgeon on its front page next to the headline: "Never mind Brexit, who won Legs-it!"
The first edition front page was later updated to a slightly toned-down version in the second edition.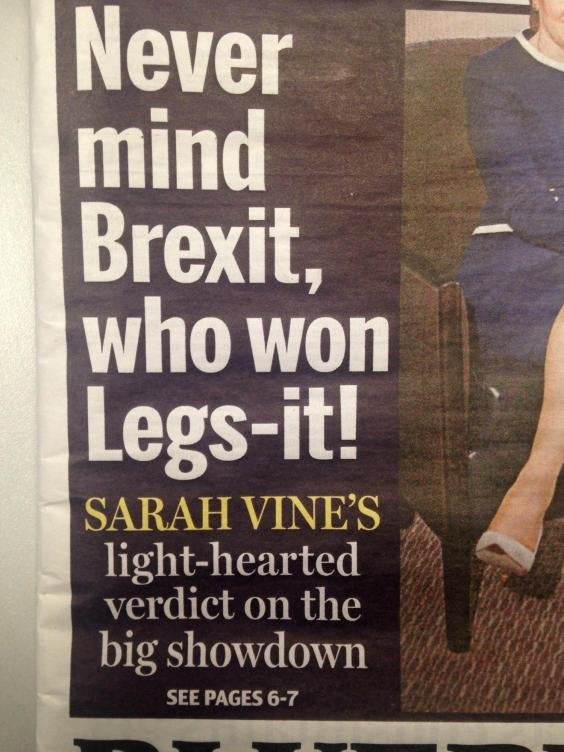 The article referred to a meeting in Glasgow between the Prime Minister and Scottish First Minister. 
The pair held a tense head-to-head where the PM refused to give ground on the Scottish First Minister's demand for a second independence referendum.
The summit exploded on social media after Downing Street pushed back on Sturgeon's suggestion May had told her a Brexit deal could be sown up within 18 months, which would boost the SNP's chances of holding a referendum to their favoured timeline.
Within minutes of the splash being tweeted out, Twitter exploded. From politicians ...
... to journalists ...
 ... and TV historian and Cambridge classicist Mary Beard.
There was a message from America ...
... some offered an alternative ...
... and others had an insight into the Mail newsroom ...
Former Guardian editor Alan Rusbridger got sassy...
But not everyone was outraged, notably ex-Tory MP and Heat Street editor Louise Mensch.
The PM's spokesman had this comment to make on the issue...
Although that didn't wash with everyone, including MP Michael Dugher, who was the chief political spokesperson for Gordon Brown when he was in PM...
SUBSCRIBE TO & FOLLOW UK DAILY BRIEF