The Daily Mail has attacked Wikipedia after the site banned the tabloid as a source for its entries, saying it was unreliable.
Its volunteer editors will now gradually remove around 12,000 links to Mail stories that have been used to source claims in Wikipedia entries, after a debate to ban it.
In its response, the tabloid attacked the site and poked fun at its co-founder Jimmy Wales for allegedly editing his own entry on the site.
It also called the decision a "cynical politically motivated attempt to stifle the free press".
A spokeswoman for Mail Newspapers said: "It is hard to know whether to laugh or cry at this move by Wikipedia - a website that is notorious for its own inaccuracy and false truths and which was co-founded by a man who doctored his own biographical entry.
"For the record the Daily Mail, in common with most reputable academic institutions, banned all its journalists from using Wikipedia as a sole source in 2014 because of its unreliability.
"Last year, the Daily Mail and Mail Online together published more than half a million stories and yet received just two upheld adjudications each for inaccuracy from the UK Industry's regulator Ipso.
"The so-called ban by Wikipedia came at the end of a month-long 'debate' triggered by a clearly obsessive newspaper-hater who hides behind the pseudonym Hillybillyholiday' - which attracted just 75 votes from Wikipedia's 30 million anonymous registered editors."
The statement continued: "The debate makes it abundantly plain that the majority of those calling for the Mail to be banned were driven primarily by political motives.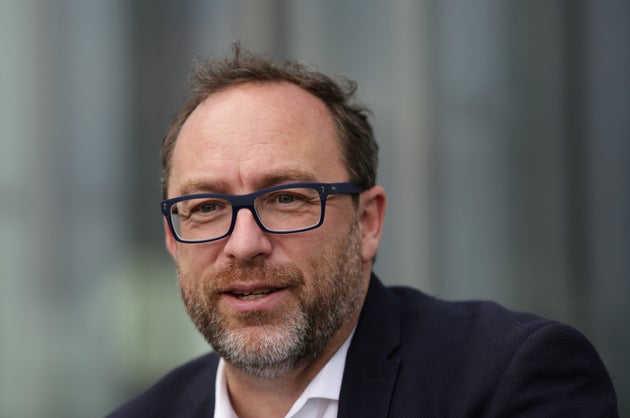 "The so-called 'vote' was then endorsed by five anonymous administrators after a secret email exchange and then deliberately leaked to the media.
"All those people who believe in freedom of expression should be profoundly concerned at this cynical politically motivated attempt to stifle the free press."
During the online debate over whether to ban the Mail, 'Hillbillyholiday' said: "A list of reasons why [to ban the paper as a source] would be enormous, it doesn't need reiterating, the paper is trash, pure and simple.
"There may be rare exceptions where a reference may be useful, perhaps when a Mail story is itself the subject – cases could be presented here for discussion.
"There is little chance anything of encyclopedic value would be lost from such a move, and everything to be gained, not least an end to continual Mail-related arguments."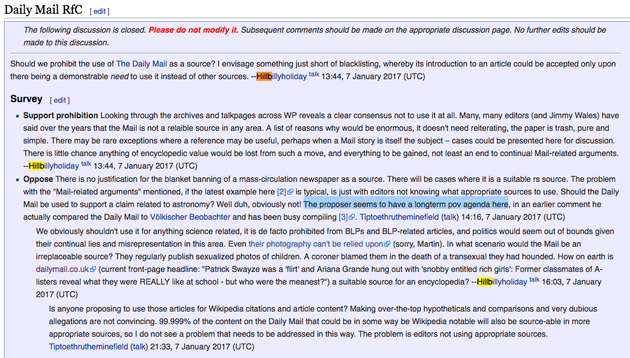 During the following debate, users flagged examples of stories they said merited the banning of the Daily Mail as a source.
These included the time it mistakenly published the wrong verdict during the Amanda Knox case, an inaccurate story about George and Amal Clooney and alleged interviews published in the Mail whose subjects denied ever talking to the paper.
In the debate over whether to ban the Mail, one opponent wrote: "There is no justification for the blanket banning of a mass-circulation newspaper as a source... The proposer seems to have a longterm pov (point of view) agenda here."
SUBSCRIBE TO & FOLLOW UK DAILY BRIEF