The pair, whose distinctive MO saw them basically replicating the behavior of every bloke who ever sat on a sofa with his mates, were last seen together in 'Baddiel and Skinner Unplanned' 12 years ago, when the show finished online, after running on and off for 15 years.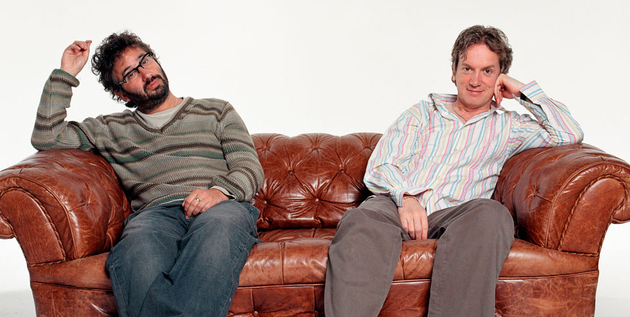 David Baddiel says of the show now: "The great thing about it was, even though it was very frightening, there was little work involved.
"We just turned up and just did it. And I loved the fact you could go anywhere with it.
"The first two series were live, the last three were edited. We could do it online or on cable.
"Me and Frank have talked about it. It would be a laugh. He lives on my road, it's great."
Only last month, actor Neil Morrissey would be open to the idea of reprising his former hit show 'Men Behaving Badly', although it would mean his character Tony and hapless flatmate Gary making different mistakes.
The show ran between 1992 and 1998, first on ITV then later the BBC, starring Neil (who replaced Harry Enfield) and Martin Clunes, as well as Leslie Ash and Caroline Quentin.
"We're old blokes now, and we couldn't be making the same mistakes," Neil told Radio Times of the prospect of a future series.
"Martin Clunes is in pretty much the same boat as me. We'd have to lobby [creator/writer] Simon Nye and [producer] Beryl Vertue and say, 'The public require it!'"
"I don't think it'll ever happen. We're all in our fifties and post Operation Yewtree, I think it'll all be a bit something else. I don't know with men of our age.
"And let's face it, the others haven't aged as well as me either!"
Forgotten Daytime TV Shows
SUBSCRIBE TO & FOLLOW UK ENTERTAINMENT