For the young folk of US Coast Guard Academy Class of 2017, today was possibly the most special day of their lives as they graduated after four years of intense study and training.
To mark the magnitude of the occasion, the President himself was there to make the keynote speech.
So it possibly came as a disappointment that the majority of it was either incoherent or about himself as Donald Trump once again lambasted the media and tried to portray the struggles of public scrutiny of potentially impeachable conduct as on a par with jumping out of helicopter to save someone's life.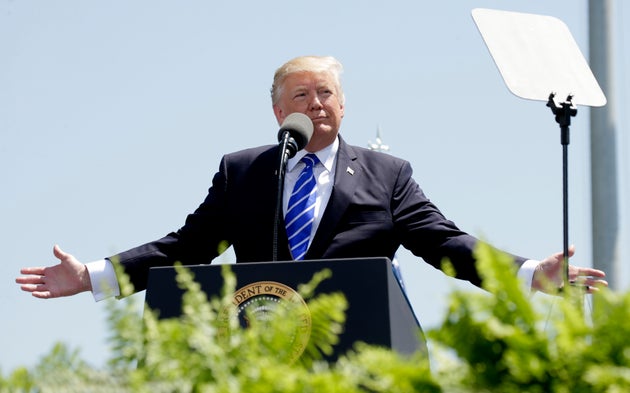 Ignoring the fact his 2018 budget proposal cuts $1.3 billion from the U.S Coast Guard, reducing its budget by 12%, Trump said: "Now I want to take this opportunity to give you some advice. Over the course of your life, you will find that things are not always fair. You will find that things happen to you that you do not deserve, and are not always warranted.
"But you have to put your head down and fight, fight, fight. Never, ever, ever give up. Things will work out just fine. Look at the way I've been treated lately, especially by the media.
"No politician in history, and I say this with great surety, has been treated worse or more unfairly. You can't let them get you down."
Trump is correct in one sense in that he is unique. No President in history has been embroiled in so much controversy so soon after taking office.
Trump continued: "The more righteous your cause, the more opposition you will face. I've accomplished a tremendous amount in a very short time as President."
He added: "And the people understand what I'm doing and that's the most important thing."
He continued: "I didn't get elected to serve the Washington media or special interests, I got elected to serve the forgotten men and women of our country and that's what I'm doing."
Signed an executive order that did away with the Fair Pay and Safe Pay Workplaces rule, which prevented companies with a history of labor or workplace safety violations from receiving federal contracts.
Appointed numerous former Goldman Sachs employees to high-level positions.
Eliminated a Bureau of Land Management rule opposed by the energy, logging, and mining industries.
Ended a requirement on energy companies to disclose payments given to foreign governments.
Signed a piece of legislation that lifted the restriction on people with mental impairments from purchasing guns and another two that weakened federal regulations on teacher training and measuring school performance.
But anyway, congratulations to those who graduated today.
SUBSCRIBE TO & FOLLOW UK DAILY BRIEF