Thousands of people brought central London to a standstill as they gathered outside Downing Street to protest against Donald Trump.
The demonstration in the capital and cities and towns across the UK was aimed at Trump's crackdown on immigration from seven predominantly Muslim countries, and his suspension of the refugee campaign.
It was also fuelled by Prime Minister Theresa May's lacklustre response.
Downing Street is halfway down Whitehall, between Trafalgar Square and the Houses of Parliament at either end, and crowds filled one end of the road to the other.
Over 50,000 people expressed their interest in attending the 
 marches, set up by journalist and political commentator Owen Jones, and early suggestions were that more than 10,000 turned up to the event in the capital.
Demonstrators were also out in force in Glasgow, Newcastle, Manchester, Birmingham and Cardiff, and many other towns and cities, waving banners and placards in response to the 90-day ban issued.
Organiser Owen Jones tweeted: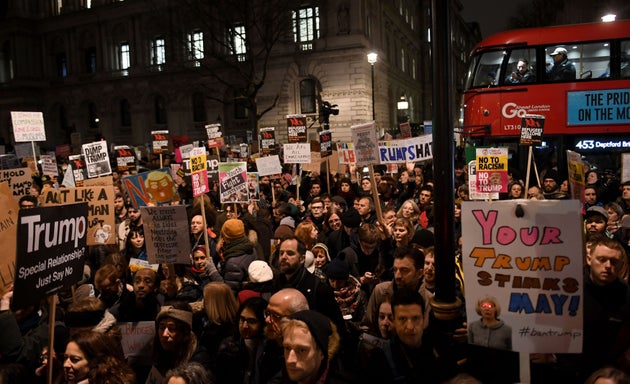 Here are some of the pictures from protests across 35 towns and cities across the UK:
Match of the Day presenter and ex-England striker Gary Lineker was among the throng in London.
The broadcaster published a picture on Instagram with the headline: "Well played London". 
Singer Lily Allen also pitched up. 
Labour MP and Shadow Business Secretary Clive Lewis was one of the speakers in Westminster. 
"Theresa May, listen up! We the British people are telling you stop with the appeasement. Stop indulging a racist, torture-supporting, woman-hating, crypto fascist. Stop him from coming to this country until he lifts the ban on Muslims."
SUBSCRIBE TO & FOLLOW UK DAILY BRIEF