The hijacker of an EgyptAir flight who wore a fake suicide belt and threatened to blow the plane up told police: "What's someone supposed to do when he hasn't seen his wife and children in 24 years?"
Seif El Din Mustafa flashed the 'V' for victory sign out of a police vehicle as he left court in handcuffs on Wednesday.
The 59-year-old faces charges of hijacking, illegal possession of explosives, kidnapping and threats to commit violence.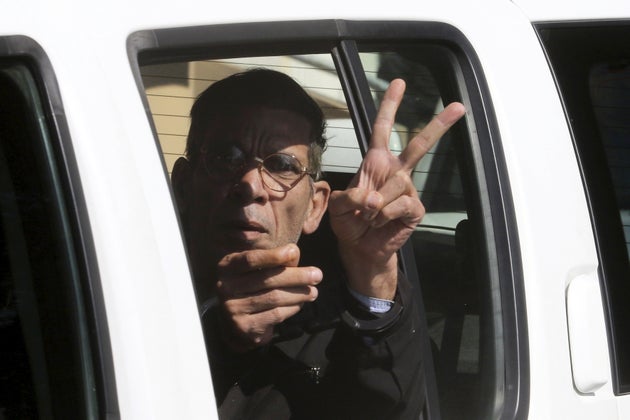 His wife is still refusing to see him after he hijacked an Airbus A320 and redirected it to Larnaca International Airport, in Cyprus, on Tuesday.
Mustafa was reported as looking "exhausted" in court today.
When he asked to call his ex-wife, a court official said she "doesn't want to talk to him", Kareem Fahim from The New York times reports.
The Cypriot court ordered Mustafa to be detained for eight days.
Cypriot officials described him as "psychologically unstable", the Press Association reports.
It comes after a bizarre set of demands Mustafa made to police negotiators, including a letter he wanted delivered to his Cypriot ex-wife in which he demanded the release of 63 dissident women imprisoned in Egypt.
Cypriot president Nikos Anastasiades faced criticism yesterday when he laughed about the hijacking, saying "always there is a woman involved".
While the hostage situation was still ongoing, Egypt's foreign ministry said that the hijacker was not a terrorist, but an "idiot", according to The Guardian.
Police prosecutor Andreas Lambrianou said that Cypriot authorities will ask for Interpol's help to determine how the suspect managed to pass the fake explosives belt through airport security in Egypt.
Passengers of the hijacked flight have been reunited with friends and family at Cairo Airport, the intended destination of the Airbus A320, which was travelling from Alexandria.
Mustafa was arrested yesterday following a six-hour stand off at Larnaca Airport.
Police arrested the suspect after all 72 passengers and crew on board the Airbus A320 aircraft were released.
Most of those on board were freed shortly after the plane landed at Larnaca airport on the Mediterranean island on Tuesday morning, but the hijacker held seven people hostage for a number of hours before the stand-off came to a conclusion.
The incident comes just five months after 224 people were killed when a Russian aircraft crashed over Egypt's Sinai Peninsula minutes after it took off from the Red Sea resort of Sharm el-Sheikh.
Russia later said an explosive device brought down the aircraft in October, and the extremist Islamic State group said it was responsible.
SUBSCRIBE AND FOLLOW
Get top stories and blog posts emailed to me each day. Newsletters may offer personalized content or advertisements.
Learn more