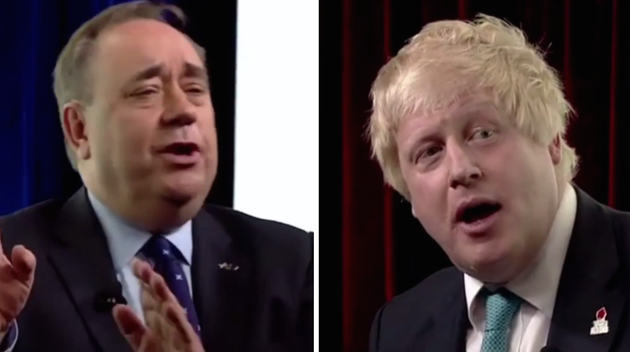 Seeking to repeat the argument again, the former London mayor chastised his political opponent for being "woefully under-prepared" to debate bananas as a means to strengthen his pro-Brexit position.
Johnson's repeated questioning of how many directives on bananas the EU had was similar in its tone to the infamous interview conducted by Paxman with then Conservative leader Michael Howard.
The 2004 TV gold saw Howard asked a question 12 times, which he repeatedly dodged.
The farcical clash between Salmond and Johnson Tuesday night, though, went as follows:
The clash comes after Johnson said at a rally in May: "If we take back control on June 23 we can also get rid of so much of the pointless rules and regulations that are holding back this country.
"This gentleman here mentions bananas. It is absurd that we are told that you cannot sell bananas in bunches of more than two or three bananas. You cannot sell bananas with abnormal curvature of the fingers.
He added: "This is not a matter for an international supranational body to dictate to the British people."
The pro-EU Britain Stronger In Europe campaign was unimpressed with the claim. Will Straw, the campaign's director, said: "Boris really has gone bananas. As everyone knows u can buy bananas in large bunches."
NOW READ:
SUBSCRIBE AND FOLLOW
Get top stories and blog posts emailed to me each day. Newsletters may offer personalized content or advertisements.
Learn more