Earlier this week, Mark Zuckerberg confirmed reports that Facebook is building a system to let people communicate using only their minds.
Now, Regina Dugan, head of the social network's secretive Building 8 unit, has taken the wraps of the technology in a remarkable demonstration.
At F8, Facebook's annual developer conference, Dugan revealed two systems that could bring telepathy a step closer to reality.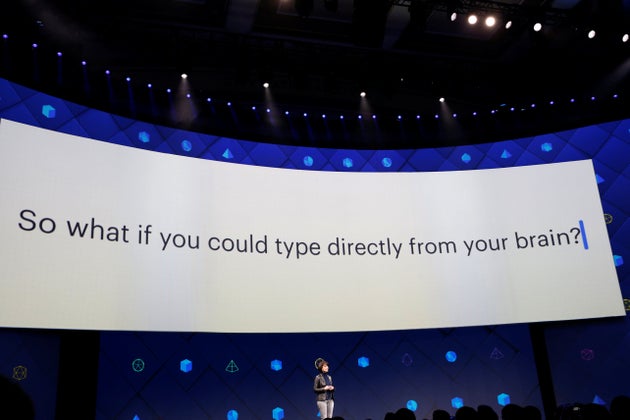 The first is a brain-interface that can detect brainwaves without requiring invasive surgery.
Dugan described the system as a "brain mouse for AR [augmented reality]" which could let users silently type up to 100 words per minute.
But Facebook has made its commitment to the project clear, hiring more than sixty scientists and academics to build the necessary software and hardware.
Dugan suggested it would take just two years to build a prototype. 
Our brains produce enough data to stream four HD movies every second.

The problem is that the best way we have to get information out into the world - speech - can only transmit about the same amount of data as a 1980s modem.

We're working on a system that will let you type straight from your brain about five times faster than you can type on your phone today.

Eventually, we want to turn it into a wearable technology that can be manufactured at scale. Even a simple yes/no 'brain click' would help make things like augmented reality feel much more natural.

Technology is going to have to get a lot more advanced before we can share a pure thought or feeling, but this is a first step."
Dugan attempted to allay users' privacy concerns by explaining that the company is "not talking about decoding your random thoughts".
"You have many thoughts, you choose to share some of them," Dugan said. "We're talking about decoding those words. A silent speech interface – one with all the speed and flexibility of voice."
Dugan also outlined a system that like Braille would relay information through people's skin: "One day, not so far away, it may be possible for me to think in Mandarin, and you to feel it instantly in Spanish."
SUBSCRIBE TO & FOLLOW UK TECH