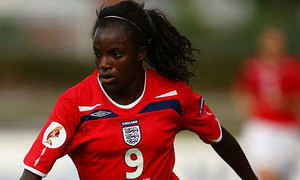 You are a striker. You are in a goal drought. Without explanation the boots have run dry. In another season, the goals flowed like Niagara Falls. The manager looks to tap the bench. You're dropped. You toss and turn at night dreaming of striking again. The net. It's open. You're going through on the goalkeeper...and you stumble like a clumsy camel. What does it take to get you over the hump? England's Women National Team striker, Eniola Aluko (pictured), has been there.
"I think the most frustrating thing is that simple things that are bread and butter when you are in scoring form, all of a sudden become quite difficult to do. For example, controlling the ball in the box and hitting the target becomes hard...the pressures of being a striker are always linked to goals so even if you have patience, other people may not, and that can affect you."
Fellow professional, Fernando Torres, knows all about impatience. The Chelsea forward has been lost in a score-parched Sahara for months, his strike blinded - one goal to his name, the net a mirage, and voices condemning him from the flowing inkwells of the press. Melancholy, puzzlement and anger flash across his face.
Aluko empathizes. "Frustration, lack of confidence, disbelief. You start to fear getting in the right positions because you do not want to miss."
Miss - the terrifying definition of being alone in football. The reception of history marries players to these terrible moments of blunder - it would have been easier to score. Scottish playing legend, Billy Bremner, blew past an open goal against Brazil in the World Cup Finals in 1974, costing the Scots progress to the next round. No bleach ever washed out the stain. Kevin Keegan, saw his header fly past the post during the 1982 Spain World Cup. In an English career that shone like a stellar sky, many chose to remember his Spanish black hole.
"It is obviously disappointing to miss but experience has taught me to always look to the next opportunity and put myself in the right positions to score again," reflects Aluko. "You can never dwell on missed chances when in 10 seconds time you can get another one...For every one miss that haunts you there are many goals and assists that can substitute that feeling."
Tough emotional armor required.
"Not scoring has given me the mental edge I didn't have before. I have always scored goals for my clubs and took it for granted but now I appreciate what it takes to score goals. When I wasn't scoring, I was over-thinking everything and letting the pressure get to me and that had an adverse impact on my play and made matters worse. But eventually I reminded myself that the best strikers go through goal droughts."