Netflix has announced when series five of 'House Of Cards' will be dropping online, revealing the news with an ominous video on Friday afternoon (20 January).
The clip was posted on Twitter exactly half an hour before Donald Trump was due to take the oath of office.
The video itself simply features a darkened, upside down, American flag blowing in the wind, as the Pledge Of Allegiance is recited:
And yes, the caption added by Netflix simply reads: "We make the terror."
Tuesday 30 May, people. Get that in your diaries.
This isn't the first time the streaming service has delivered a perfectly-timed 'House Of Cards' teaser.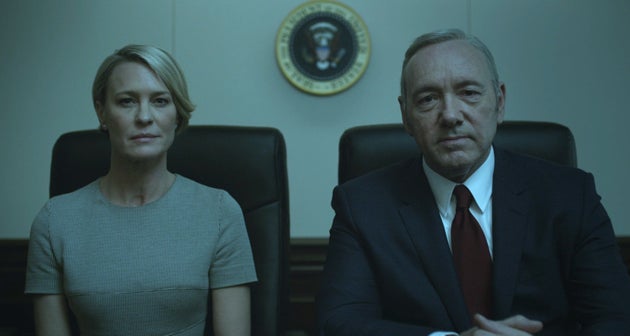 While the events of 'House Of Cards' once seemed miles away from real-life politics, the past 12 months have seen many similarities between fact and Netflix's fiction emerge.
The show's creator addressed Donald Trump's campaign as the election results were rolling in, writing: "If he wins we must get over our disbelief & dismay immediately. We use that energy starting tomorrow to prevent him from ruining the nation."
Netflix AmazonPrime Picks Of 2017
SUBSCRIBE TO & FOLLOW UK ENTERTAINMENT