The Labour leader could be seen celebrating with Islington South MP Emily Thornberry after a night which saw Labour defy expectations.
But as Corbyn went in for a high five it all went slightly wrong: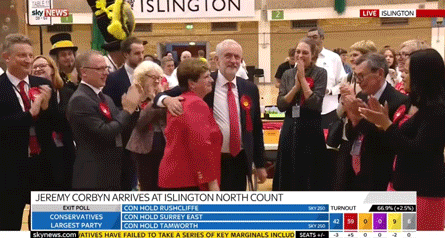 No, your eyes do not deceive you, he just high-fived her boob.
Fair play to Thornberry, she managed to keep a straight face despite the blow - clearly one has to be made of strong stuff to be in the shadow cabinet.
But after repeatedly responding to questions about how Labour would avoid a "coalition of chaos", "queen of sass" Thornberry hit back brillantly. 
"Have you been asking any Tory MPs [that] given the situation they're now in?," she asked the veteran BBC broadcaster. 
"That they may be in the situation where they are heading for a coalition of chaos?" 
A suitably cowed Dimbleby replied: "Well no, they all say they're going to have a majority." 
Delivering her killer blow, Thornberry laughed: "Well, there we are.
"They have been saying that all the time, haven't they? What was there majority going to be? It was going to be 100 wasn't it, or 120, or 150 seats. 
"That's clearly wrong, wasn't it? "Let's see what happens," she added. 
SUBSCRIBE TO & FOLLOW UK DAILY BRIEF