The Labour leader's net approval rating now stands at -40, down from -35 in November of last year.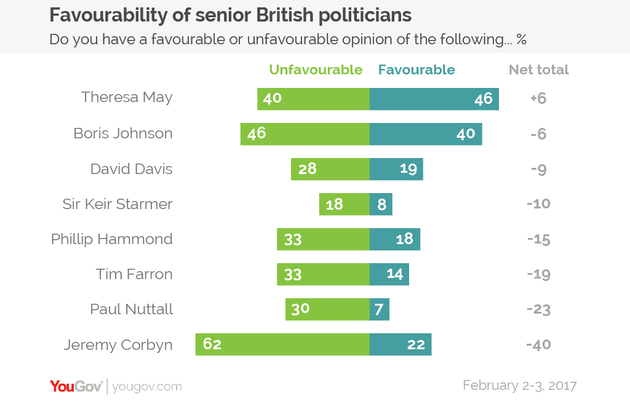 Even more worrying for Corbyn is that amongst young/old, North/South, Leave/Remain, male/female, middle/working class and even those who voted Labour in 2015, Corbyn has a net negative approval rating (% who replied favourably, minus % who replied unfavourably).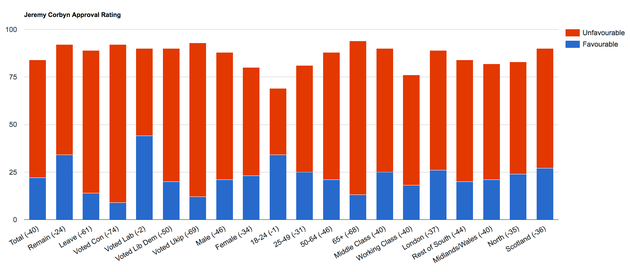 Amongst the working class, traditionally Labour's heartland, he has a score of -40 and amongst the 18-24 age group, -1.
Meanwhile, Theresa May went up one point to +6, the Tories rose 6 points to -10 and Labour as a whole gained 2 points to -29.
Depending on how he manages the situation, his approval rating could slip even further.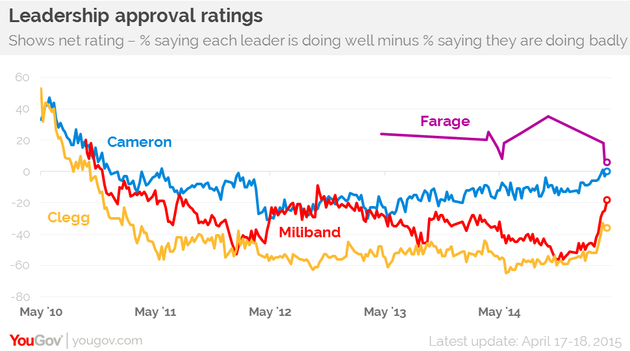 "Other leaders have done just as badly in the past, but they did all tend to be leaders who went on to lose.
"The most negative ratings of all tend to be for leaders in government - Gordon Brown and Nick Clegg were both perceived far more negatively than Corbyn."
Rumours Corbyn had made plans to step down as leader were
on
on Thursday morning.
Corbyn said it was "not a disaster" that ally Lewis, who is tipped as a future leader, quit.
"The majority of Labour MPs voted to trigger Article 50. Fifty-odd voted against it, mainly on the basis of their strong message from their own constituents. My argument is it was a national vote, it was a national referendum, and Parliament has to respect that," he said.
In the past two weeks shadow minister for early years Tulip Siddiq, shadow environment secretary Rachael Maskell and shadow equalities minister Dawn Butler all resigned from the front bench. 
Corbyn's first reshuffle, in January 2016, took 34 hours to complete. 
SUBSCRIBE TO & FOLLOW UK DAILY BRIEF