The webmaster explained the closure of the page a few days ago had occurred after a spate of hateful posts aimed at Madeleine's parents, Kate and Gerry McCann.
The webmaster, believed to be a mother herself, wrote she had closed the page "for my own mental health."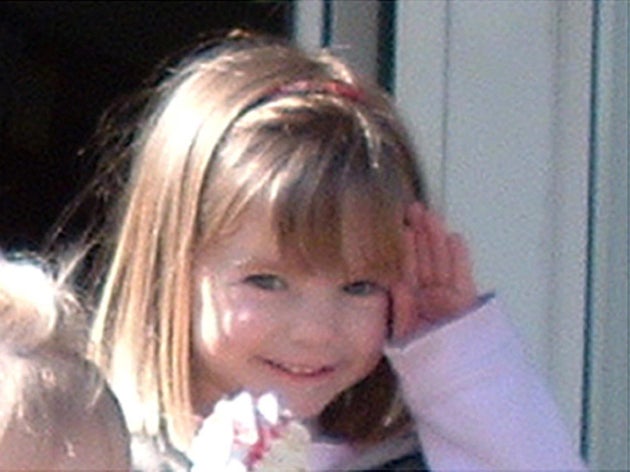 She added: "I would also like to set the record straight on how this page is managed. In late 2007, I urged Gerry and Kate to have a page set up on Facebook. I set up this page and have run it ever since. The only posts that Gerry and Kate see are the ones I send to them. They do not use social media."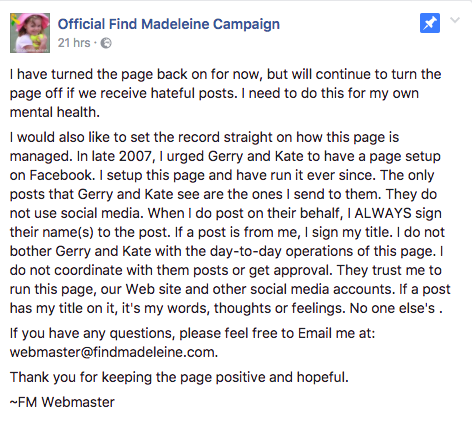 Deirdre Deagain responded to the message and the reopening of the page by saying: "The witch hunt against them is disgraceful. I'm glad they don't use social media."
Janet Ruddock Murnaghan added: "We pray for them and their little girl. It's terrible that anyone would want them to suffer any more than they already have."
"Never give up hope, we all have views on this but I pray she is found alive and well," wrote Sharon Louise.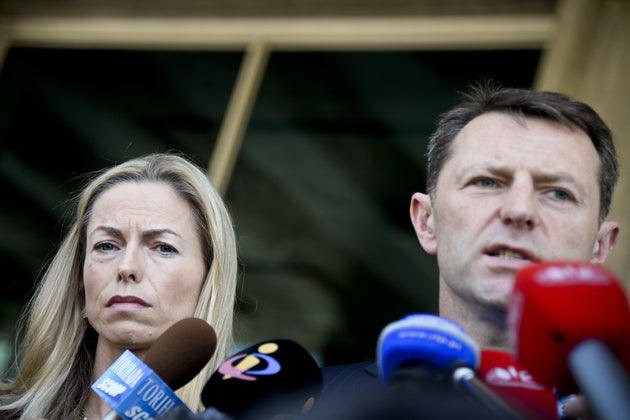 Patricia Murray praised the webmaster: "You have done a good job with this page, the hateful people cannot and will not win. Thank you for keeping going despite these nasty trolls. We appreciate what you do. We all hope and pray and never stop thinking of this dearly loved little girl and hope she gets found soon."
McCann sources have previously warned the family's lawyers are kept fully informed of all social media and broadcast remarks which may be malicious or libelous.
Portuguese and British detectives are now united in probing fresh tips that Madeleine was spirited away by traffickers and the current investigation is reportedly on human traffickers who may have snatched her and sold her "to order." 
The Home Office has granted officers £85,000 to cover "operational costs" to continue the search.
Private investigators hired by the McCanns in 2007 reported the presence of men watching children at the beach with binoculars and taking pictures of them.
The McCanns believe images of their daughter may have been shared with traffickers who then selected her.
While there is no suggestion the employee, who is said to be a Portuguese man who speaks some English, was involved directly in Madeleine's disappearance, it is thought he may have information.
A British re-investigation into case was launched in 2011 after the initial one by the Portuguese authorities was deemed insufficient.
SUBSCRIBE TO & FOLLOW UK DAILY BRIEF