Amelia is the most popular name given to girls born in 26 cities, while Jack and Oliver are joint first for boys born in 12 cities across the country.
The top names overall for the whole of the UK were Oliver for boys and Olivia for girls. While Muhammed and Lily came in second place.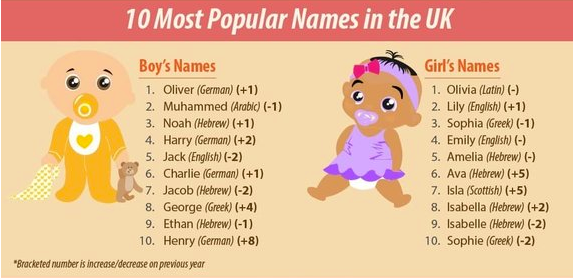 The director of Character Cottages, Andrew Soye, said: "Some of the most popular names appealed across the entire country while we also saw some names which were more localised to specific regions – often names that were traditional Gaelic or Welsh."
Scroll down to see the full infographics with all the latest baby name updates.

Whether you're looking for a name that is 'cool', 'cute', 'pretty', or 'unique', our Baby Name Generator is here to inspire you. Discover the meaning of your favourite name, browse the 100 most popular baby girl names and baby boy names in England and Wales, or let our Random Name Generator throw up an unusual suggestion. 
Also on HuffPost
Spring-Inspired Baby Names
SUBSCRIBE TO & FOLLOW UK PARENTS