A woman and her daughter have been charged with incest after they were legally married earlier this year.
Patricia Ann Spann, 43, and Misty Velvet Dawn Spann, 25, tied the knot in Oklahoma.
Further investigations revealed Patricia had also married her son in 2008. He filed for an annulment 15 months later citing "incest", stating he was married to his birth mother, the Associated Press writes.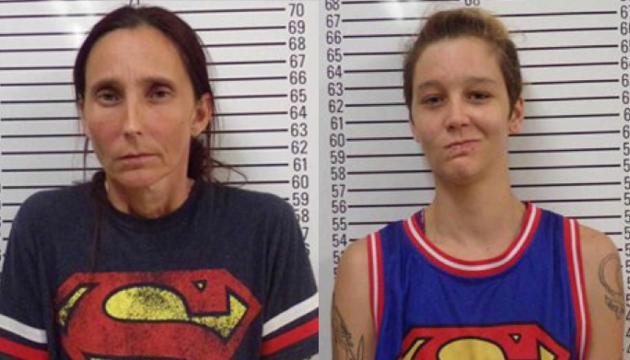 Patricia and her daughter appeared in Stephens County district court on Wednesday. Under Oklahoma law, marrying a close relative is considered incest whether or not a sexual relationship exists. It is a felony punishable by up to 10 years imprisonment.
Patricia, a mother-of-three, had lost custody of all of her children, each of whom were adopted by their grandmother, the Duncan Banner reports.
It adds she had no contact with them until two years ago, and that when she and Misty met, "they hit it off."
Patricia is said to have told social workers "that because her name was no longer listed on Misty's birth certificate, she felt no laws had been violated."
Neither woman had an attorney listed in court documents. No publicly listed phone number could be found for their home in Duncan, about 80 miles southwest of Oklahoma City.
Police didn't return a message seeking investigation details following the women's court appearance. Both women were being held on $10,000 bonds.
They will reappear in court on 6 October for an attorney announcement document and again for a preliminary hearing conference on 9 November.
Genetic sexual attraction (GSA) is sexual attraction between close relatives, such as siblings or half-siblings, a parent and offspring, or first and second cousins, who first meet as adults. Relatives who fail to form the family bonds which create a natural taboo around sexual bonding, are said to be at risk of interpreting intense familiarity as sexual attraction. The term GSA was coined in the US in the late 1980s by Barbara Gonyo, the founder of Truth Seekers In Adoption, a Chicago-based support group for adoptees and their new-found relatives. Gonyo reported feeling overwhelmingly attracted to her own estranged son upon meeting him later in life. However, her son's unresponsiveness towards her attraction meant she never acted on it. According to The Genetic Sexual Attraction Forum, some studies of GSA suggest that feelings of more than just a familiar level occur in up to 50% of all post adoption reunions.
SUBSCRIBE TO & FOLLOW UK DAILY BRIEF