Serving members of the Army are among four alleged members of banned neo-Nazi group National Action who were arrested on suspicion of preparing acts of terror on Tuesday, the Ministry of Defence has confirmed. 
The men − a 22-year-old from Birmingham, a 32-year-old man from Powys, a 24-year-old from Ipswich and a 24-year-old from Northampton - are being held at a police station in the West Midlands.
The MOD said in a statement: "We can confirm that a number of serving members of the Army have been arrested under the Terrorism Act for being associated with a proscribed far right group.
"These arrests are the consequence of a Home Office Police Force led operation supported by the Army. This is now the subject of a civilian police investigation and it would be inappropriate to comment further. Any further inquiries should be made to the Home Office Police Force."
A police spokesman said the men had been arrested on "suspicion of being concerned in the commission, preparation and instigation of acts of terrorism under Section 41 of the Terrorism Act 2000; namely on suspicion of being a member of a proscribed organisation (National Action) contrary to sec 11 of the Terrorism Act".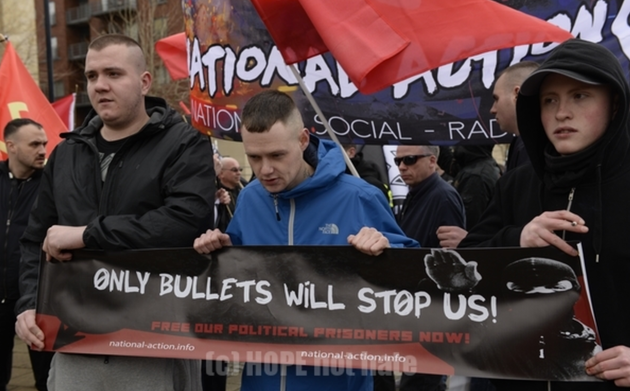 The arrests, the spokesman added, were all pre-planned and intelligence-led: "There was no threat to the public's safety." 
Police carried out the arrests in conjunction with counter-terror units from the West Midlands, Wales and the East Midlands
Several properties are being searched in connection with the arrests.
National Action were banned as a terrorist organisation by Home Secretary Amber Rudd in December. She described them as "a racist, anti-Semitic and homophobic organisation".
The group made a name for itself with a serious of offensive stunts including championing Thomas Mair, the man sentenced to life imprisonment for the murder of MP Jo Cox a week before the EU Referendum.
Charity Hope not Hate has repeatedly warned that National Action has continued to operate and tweeted today that authorities needed to remain vigilant. 
"We maintain that in spite of any police action against individuals carried out today, the group still continues under a number of different names and guises."
Meanwhile, anti-fascists used the arrests to call for "greater scrutiny" to far-right terrorism.
Sabby Dhalu, joint secretary of Unite Against Fascism said: "These arrests are one more piece in an already huge stack of evidence that much greater prominence must be given to the fight against far-right terrorism."
Dhalu claimed there is a "clear double standard" in the way terrorism is treated in the UK: "Media headlines and government announcements focus almost exlusively on terrorist activity by those claiming to be Muslims, while around a third of all suspected terrorist activity is coming from the far right.
"The murders of Jo Cox and Mohammed Saleem and the outrage in Finsbury Park show that this is far from being a minor threat. Rather than demonising Muslims and contributing to Islamophobia, we call on politicians and the media to take the growing threat of far-right violence and terrorism as seriously as it does ISIS-type terrorism"
National Action have also made headlines for hosting a Miss Hitler contest and for posting pictures online of them performing Nazi salutes at the Buchenwald Camp in Germany where nearly 50,000 people were killed.
"This is a group that has tried to kill people. This is a group that has a number of people in prison, leaders in prison. This is a group that is training. This has to be taken extremely seriously. This is an extremely dangerous organisation that fetishes violence," HnH senior researcher Dr Jo Mulhall told HuffPost UK last month. 
"It is not just that they just talk about it, this is a group that venerates people that engage in violence, they train for violence... there is no question."
Cheshire Police confirmed to HuffPost UK last month that they were investigating National Action but wouldn't comment further other than to say their probe is "ongoing".
The National Police Chiefs Council has previously told HuffPost UK that it "will continue to monitor the activities of the group (National Action) and its associates". 
SUBSCRIBE TO & FOLLOW UK DAILY BRIEF