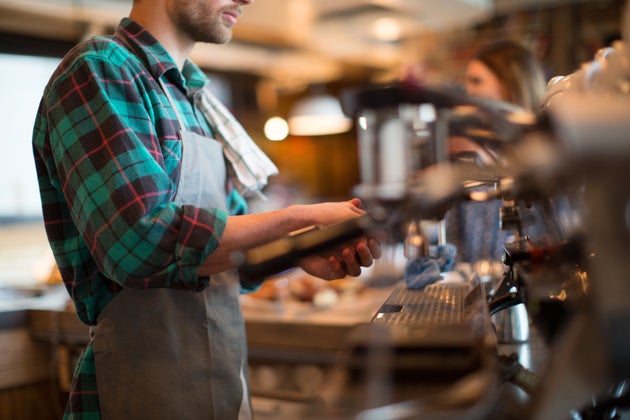 There is no proof under 25s are less productive than older workers the Government has admitted, despite using that as a reason not to pay them the National Living Wage.
Last September, Cabinet Office Minister Matthew Hancock claimed young people were not productive enough to warrant the increased Living Wage, announced by the Chancellor George Osborne.
There is currently a 50p per hour difference in the minimum rate for those over 25 years of age and those younger than 25 and The Low Pay Commission predict that this will rise to a difference of £1.21 per hour by October 2020.
Following a question from Labour MP Holly Lynch, the Government has now been forced to admit it has no facts to back up its claim.
Skills Minister Nick Boles said: "While labour productivity statistics are estimated by sector, there are no official statistics estimating the productivity of workers by their age."
Responding to the revelation, Lynch said: "It's outrageous that under 25s are being told that they aren't worth £7.20 an hour.
"Millions of hard working young people across the country face being payed less than their older colleagues, regardless of experience.
"The Government need to act now to secure a fair wage for young workers and I'll be working with young people and colleagues in Westminster to build pressure on the Government to rethink this unjust decision."
The National Living Wage was announced by Chancellor George Osborne last year, with the over 25s handed a new minimum wage of £7.20 an hour.
Those under 25 are still on the old minimum wage rates, meaning they are entitled to £6.70 an hour, down to £5.30 for 18 to 20 year olds and £3.87 for under 18s.
Hancock's comments sparked a backlash online, with people taking to Twitter to share their achievements when they were under 25 using the hashtag #at25.
At a debate on the issue in Parliament yesterday, Labour's Shadow Minister for Equalities Cat Smith also attacked the Government's decision to exclude under-25s from the pay rise.
She said: "Cost of living is the same for young workers as it is for older workers.
"I have never met a landlord who is willing to rent out a property for less money to someone who is under 25, or a baker who is willing to sell a loaf of bread for less because the person wanting to eat it is under 25. It costs us all the same to live."
Responding for the Government in the debate, Boles said raising the minimum wage for younger workers too quickly "is a risk" as it could lead to a "protracted period of unemployment."
He went on: "It is especially important that young people are given early opportunities, which explains the original construction of the national minimum wage."
Boles added: "I am sure everybody can understand, because it is a matter of common sense, that the closer the national minimum wage rate for somebody of that age gets to the median wage, the greater the risk that raising the national minimum wage rate will reduce employment opportunities."
SUBSCRIBE AND FOLLOW
Get top stories and blog posts emailed to me each day. Newsletters may offer personalized content or advertisements.
Learn more