The new £5 note will not be taken out of circulation, the Bank of England said on Wednesday, despite concerns that it contains animal fat.
The bank said it "recognises the concerns raised" about the trace of tallow but said the decision has been made not to withdraw the notes and to issue the new £10 polymer note as planned in September.
The bank said producing notes is "complicated" and that 275 million £10 polymer notes have been printed since production began last August, at a cost of £24 million.
Additionally, £46 million has been spent on printing the £5 polymer note, costs that would have to be incurred again in the event of a withdrawal and reprinting of the currency.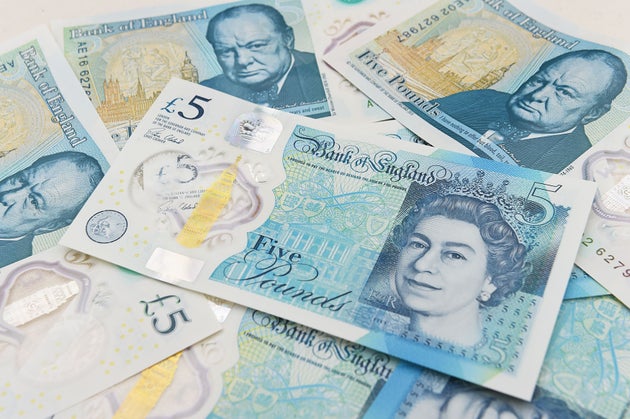 Vegans and religious groups were left outraged last year when it was announced that the new polymer note contained tallow, a rendered form of beef or mutton fat, sometimes used in the production of items such as soap and candles. 
The bank said it was not aware of the presence of animal-derived products when it signed the contract with its supplier for the currency.
A statement added: "When the bank discovered the presence of these products, its first step was to alert the public and subsequently has been treating the concerns raised by members of the public with the utmost seriousness.
"It has spoken to a number of groups to understand their concerns more fully."
The fact that the new currency contained tallow was revealed when the Bank of England responded to a tweet.
The bank said in a statement: "An extremely small amount of tallow is used in an early stage of the production process of polymer pellets, which are then used to create the base substrate for the £5 note.
"The bank is continuing to work closely with banknote polymer suppliers to determine what alternatives might be available."
To delay issuing the new polymer £10 "would also delay the benefits of the increased counterfeit resilience of polymer being achieved for the bank and the public", it added.
The Vegan Society said it was "unfortunate" the new notes will contain tallow, but said they were pleased the bank is "taking the beliefs of the public into consideration".
Dominika Piasecka, spokesperson for The Vegan Society, said: "We have met with the Bank of England and believe they are committed to solving this problem and we will continue to work with them to find a good solution."
Production on the new £20 polymer note, which is due to be issued by 2020, has not yet begun.
The bank said it will launch a consultation on March 30 about the content of polymer substrate to be used in its future banknotes. 
Piasecka added: "We look forward to the consultation around the £20 note and hope that any future bank notes will be free from ingredients produced through harming animals.
"We hope that other companies will follow this positive example and review the use of animals in their products."
SUBSCRIBE TO & FOLLOW UK DAILY BRIEF