A US newspaper has been called "disgusting" and "childish" for its front page implying Jennifer Aniston is overjoyed at news her ex-husband Brad Pitt is getting divorced from Angelina Jolie.
The New York Post devoted its whole front page to a picture of Aniston for its Wednesday edition, after the news that Jolie has filed for divorce from Pitt, who she started dating while Aniston and Pitt were still together according to some reports.
A picture of Aniston laughing appeared the New York Post with the words "Brangelina 2004-2016", implying the actress was nothing short of delighted with the end of her ex-partner's marriage.
"Jennifer Aniston knew Brangelina would end one day," the Post added in a tweet.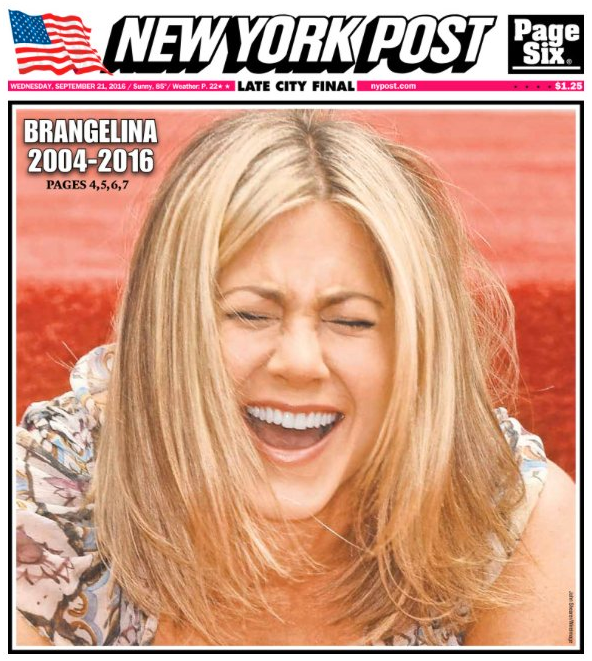 Its picture of the cover was retweeted 1,300 times, but most who commented on it were unimpressed.
One called staff at the newspaper "savages" while another said: "Gross.... This isn't who Jennifer Aniston is. She wouldn't approve of this."
"I hope she sues them," said another, and one called the cover "utterly childish".
Aniston's depiction by the media has long been criticised by those who say she has been portrayed as heartbroken and bitter after separating from Pitt.
In a blog for The Huffington Post in July, the actress hit out at the negative messages perpetuated by the media, and the "dangerous" practices of tabloids.
"The message that girls are not pretty unless they're incredibly thin, that they're not worthy of our attention unless they look like a supermodel or an actress on the cover of a magazine is something we're all willingly buying into," Aniston wrote:
"This conditioning is something girls then carry into womanhood. We use celebrity "news" to perpetuate this dehumanizing view of females, focused solely on one's physical appearance, which tabloids turn into a sporting event of speculation. Is she pregnant? Is she eating too much? Has she let herself go? Is her marriage on the rocks because the camera detects some physical "imperfection"?

"From years of experience, I've learned tabloid practices, however dangerous, will not change, at least not any time soon. What can change is our awareness and reaction to the toxic messages buried within these seemingly harmless stories served up as truth and shaping our ideas of who we are.

"We get to decide how much we buy into what's being served up, and maybe some day the tabloids will be forced to see the world through a different, more humanized lens because consumers have just stopped buying the bullshit."
SUBSCRIBE AND FOLLOW
Get top stories and blog posts emailed to me each day. Newsletters may offer personalized content or advertisements.
Learn more