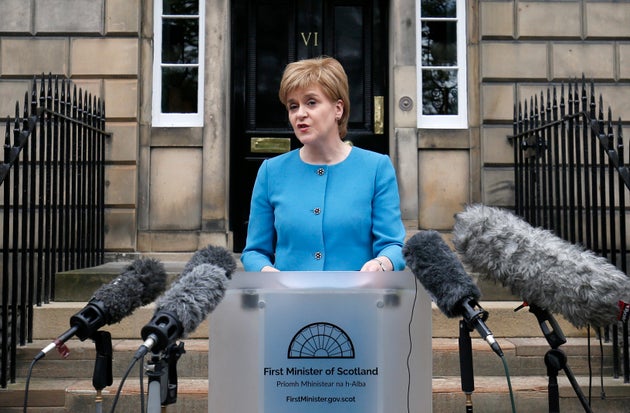 Nicola Sturgeon says the Scottish government will seek to enter into "immediate discussions" with Brussels to "protect Scotland's place in the EU" in the wake of the Brexit vote.
Scotland's first minister said this afternoon she will establish an advisory panel with experts to advise her on legal, financial and diplomatic matters as she seeks to continue Scotland's membership.
Speaking outside her official residence in Edinburgh, the SNP leader said her cabinet had agreed to begin work on legislation that would allow for the option of a second independence referendum.
Following a cabinet meeting at Bute House, Sturgeon said: "We are determined to act decisively but in a way that builds unity across Scotland about the way forward.
"As I said yesterday, a second independence referendum is clearly an option that requires to be on the table and is very much on the table.
"To ensure that that option is a deliverable one within the required timetable, steps will be taken now to ensure that the necessary legislation is in place. Cabinet this morning formally agreed that work."
The first minister added: "Cabinet agreed that we will seek to enter into immediate discussions with the EU institutions and other EU member states to explore all possible options to protect Scotland's place in the EU.
"Over the next few days I will establish an advisory panel comprising a range of experts who can advise me and the Scottish Government on a number of important matters - legal, financial and diplomatic."
Today one of Scotland's biggest-selling newspapers backed the prospect of a second independence referendum.
The Daily Record said Sturgeon has "little option" but to pull the trigger on a second referendum after Scots voted overwhelmingly to remain in the EU while England and Wales opted for Brexit.
Saturday's edition of the Record, which largely held a pro-Union stance during the 2014 campaign over Scotland's future, appeared to go further and give its tentative support for independence, saying it offered a "positive, outward-looking option" for the country.
SUBSCRIBE AND FOLLOW
Get top stories and blog posts emailed to me each day. Newsletters may offer personalized content or advertisements.
Learn more