The presenter admitted he was in agony as he reunited with his co-host on the ITV breakfast show on Monday (4 September), but his martyrdom at making it into work hardly made Susanna feel sorry for him.
Insisting he was working through the pain, he said: "As I've been saying these last three years, you have to man up when these things happen.
"I mean, I could have stayed in bed, lying there with my broken bones, feeling sorry for myself. But no, children, I came in and I manned up. It's called rising to the challenge that life may throw you. So here I am in agony."
Chiming in, Susanna joked: "And here we are, in agony, listening to Piers moaning."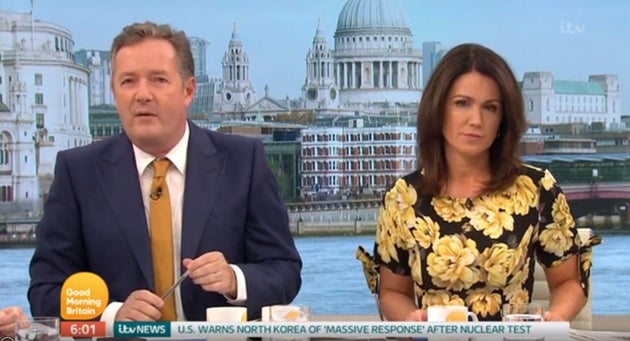 Piers sustained the injury while on holiday in the Caribbean, but it wasn't until two weeks later that he actually sought treatment when back in the UK. 
Revealing how it happened, he explained: "I was walking with two tennis rackets, two tennis ball tubes and two bananas.
″[You should have seen] the crime scene after it happened...
"I rocketed back and landed on my back and just lay there."
"The nurse at the hotel said 'Don't worry it's just bruises' so I carried on for two weeks. And then I get back here [to Britain] and it's three clean fractures."
'Good Morning Britain' airs weekdays from 6am on ITV.
21 Times Susanna Reid's Face Revealed The True Reality Of Working With Piers Morgan
SUBSCRIBE TO & FOLLOW UK ENTERTAINMENT