Poachers killed two rhinos and took staff hostage in a "vicious attack" at an animal orphanage in South Africa.
Two baby rhinos, who had already lost their parents to poachers, were killed in the attack, with poachers removing their horns and leaving them to die.
Rhino Gugu was killed instantly, with Impi having to be put down the following day due his injuries.
Both rhinos were just one week away from being dehorned and moving to the next phase of their release back to the wild.
Conservationists sometimes dehorn rhinos in order to remove the threat from poachers.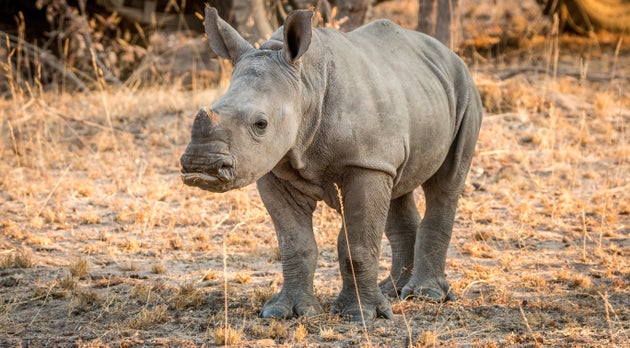 A security guard at the orphanage was held hostage for two hours before poachers attacked the carer team and two rhinos.
The "horrific attack" shows the "frightening extent" poachers will go to secure rhino horn, wildlife campaigners said.
Dr Jacques Flamand, Rhino Range Expansion Project Leader at World Wildlife Fund, said: "WWF is shocked and saddened by news of the vicious attack at the Thula Thula Rhino Orphanage.
"This latest development shows the frightening extent to which the violence and crime associated with illicit trade in rhino horn is impacting not just conservation efforts but people's lives."
Conservation charity Helping Rhinos, which works with the animal orphanage targeted, said seven poachers attacked the rescue centre.
"Our thoughts go out to the team we have got to know well over the years. We can only imagine the stress and heartache they are feeling."
The rhino orphanage said: "We are still trying to come to grips with the devastating attack on our team as well as the tragic loss of two of our beloved rhino orphans, Impi and Gugu.
"Thank you for the overwhelming support and our apologies if we are slow at responding to comments and messages.
"Our team is still on full alert with additional protection measures being implemented to ensure the safety of the staff and calves still in our care.
"The remaining rhino orphans and Charlie are all doing well and we are sticking to our normal schedules to minimize any further disruptions that could cause them stress."
The centre added: "In the coming weeks we will keep all our followers informed of the situation. Let's all stand strong, calm and united in the face of this tragedy."
The orphanage was created in 2014 with the support of the international animal welfare organisation Four Paws and the Fundimvelo Community Trust. It offers refuge to baby rhinos who have lost their mothers to poachers.
Fiona Miles, Country Director at Four Paws South Africa, said: "The facility is crucial to provide orphan rhinoceroses the possibility to be rehabilitated and returned to the wild. This brutal attack on an orphanage shows once again that rhino poachers will stop at nothing. Our immediate thoughts are with the whole Thula Thula team."
It is understood that authorities have arrested three people in connection with the incident.
SUBSCRIBE TO & FOLLOW UK DAILY BRIEF