The pound plummeted against both the Euro and US dollar on Wednesday, after Theresa May signed the letter triggering Article 50, beginning the formal process of Brexit.
Sterling was down 0.28 percent against the Euro to €1.1482, and down 0.49 percent against the dollar to $1.2389.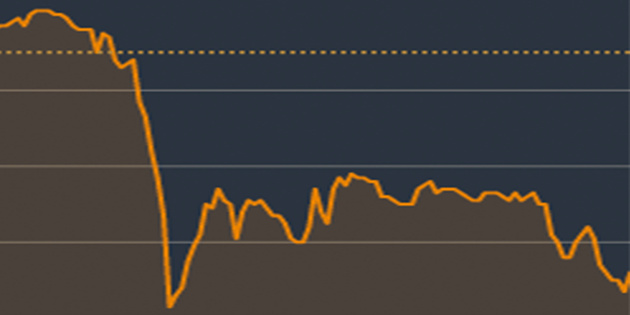 The Prime Minister signed the letter that formally announces the UK is quitting the EU last night, as she urged a divided country to "come together" over Brexit.
The letter will be handed to European Council President Donald Tusk in Brussels by Sir Tim Barrow, the British ambassador to the EU, at 12.30pm on Wednesday.
While the moment could provoke further turmoil in currency exchanges, it is likely rates will rebound, though perhaps not to their one-day highs.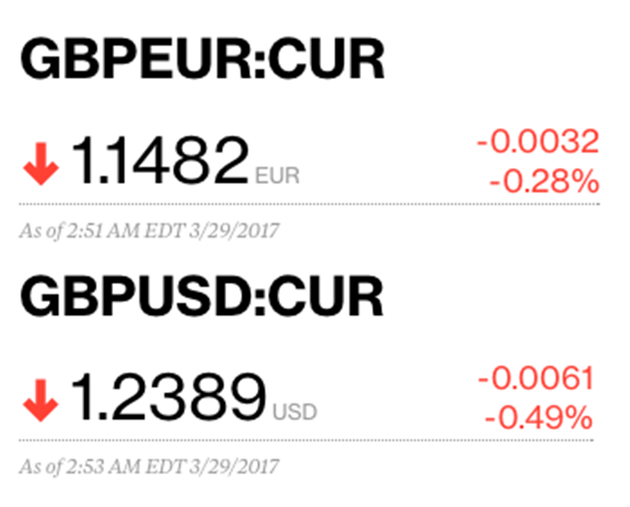 The moment is the only point that Article 50 is triggered, firing the starting gun on two years of negotiations to extract the UK from the bloc.
The talks will include how much money Britain owes for bailing out and what trade deal - if any - can be hammered out once the UK quits the single market.
Investors will watch for signs of the deal Britain may achieve in the coming days, weeks and months. Negotiations can last a maximum of two years.
'Close and committed ally'
Earlier in the evening, May spoke to German Chancellor Angela Merkel, the President of the European Council, Donald Tusk, and the President of the European Commission, Jean-Claude Juncker, all key players in the talks ahead.
A Downing Street spokesperson said on Tuesday evening:
"In separate calls, they agreed that a strong EU was in everyone's interests and that the UK would remain a close and committed ally.

"They also agreed on the importance of entering into negotiations in a constructive and positive spirit, and of ensuring a smooth and orderly exit process.

"The Chancellor, the European Council President, and the European Commission President thanked the Prime Minister for her calls."
SUBSCRIBE TO & FOLLOW UK DAILY BRIEF