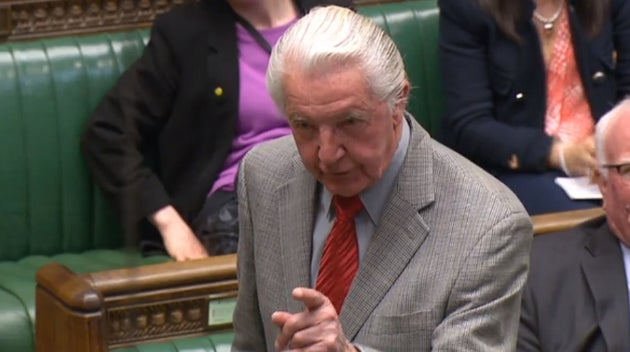 Dennis Skinner has unleashed a withering quip at the government, as is his usual custom, when the Queen visited Westminster today.
The Bolsover MP has a long history of issuing one-liner snipes at the Conservative benches just moments after Black Rod invites MPs to hear Her Majesty deliver the annual Queen's Speech.
Some of his heckles over the years have included, in 2014, "Coalition's last stand"; "Royal Mail for sale, Queen's head privatised" in 2013; and "Jubilee year, double dip recession, what a start" - to cries of 'shame' from Tory MPs - in 2012.
This year he opted for: "Hands off the BBC."
But Skinner has a history of launching fiery tirades at Tories on the benches opposite.
Here are seven times the firebrand Labour backbencher gave other MPs a fearless dressing down:
1

Ejected for Osborne 'coke' jibe

MP ejected from Commons over drug slur

Labour MP Dennis Skinner has been sent out of the Commons for accusing Tory George Osborne of taking cocaine. The Bolsover MP said he was referring to Sunday newspaper claims, which had been denied by Tatton MP Mr Osborne.

Posted by Dennis Skinner on Tuesday, 7 April 2009
SUBSCRIBE AND FOLLOW
Get top stories and blog posts emailed to me each day. Newsletters may offer personalized content or advertisements.
Learn more