The Government has been warned against letting the Port Talbot steelworks close after figures showed unemployment has spiralled in a town where ministers allowed the industry to "drive off the cliff".
A new analysis has revealed the economic damage being wrought in Redcar, Teesside, in the north east of England, after Thai-owned SSI wound down the town's furnaces and coke ovens in October, and comes amid fears the same could happen in south Wales.
The decision resulted in 2,200 people being laid off - ending steel production in the town that stretched back to 1917.
According to an analysis of official figures published by the House of Commons library, unemployment in the Redcar constituency has jumped by 16.2% in the last year - the seventh highest increase of 650 constituencies in the UK.
The only areas to see a steeper increase were five in the north east of Scotland, which has been battered by falling North Sea oil prices, and Chorley in Lancashire.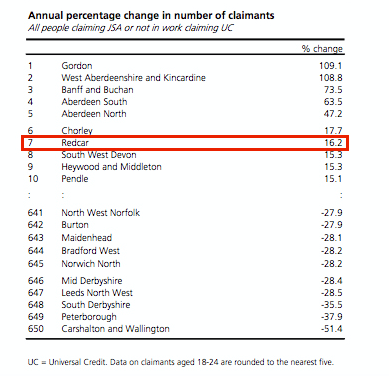 The research found 2,739 people were claiming unemployment benefit in February this year - up 382 people on the same month the previous year - giving the constituency an unemployment rate of 7%, the tenth highest in the UK.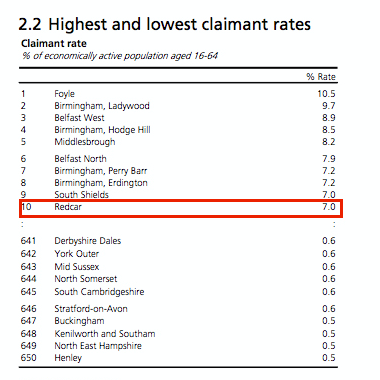 By contrast, Aberavon, the constituency that included Port Talbot, has recorded a modest 3.1% fall in people on the dole.
Ministers dismissed calls for a state-backed bail-out in Redcar, and the Government is facing similar pressure to re-nationalise the Port Talbot plant - even temporarily to find a buyer - after owner Tata Steel said last week it was offloading its loss-making assets.
Today, Business Secretary Sajid Javid flies to India to meet with Tata bosses - a week too late, some claim, after being in Australia during a D-day meeting - against claims over the Government's renewed interest in steel.
Anna Turley, Labour MP for Redcar, told HuffPost UK she hopes that Port Talbot - and other under-threat Tata works in Rotherham, Corby and Shotton - can survive.
But she questions whether upcoming elections in Wales, where the Conservatives hope to make gains, and increased media attention during the Easter recess has led to the Government showing more interest in Port Talbot than a town in Labour's northern heartlands.
Like Port Talbot, Redcar was losing money and boasted a "blast" furnace to create new steel, which critics say is obsolete when recycled steel now dominates.
Yet Javid is set to meet the boss of steel giant Liberty, which has shown interest in the Welsh plant and talked about replacing "blast" furnaces while keeping all the jobs.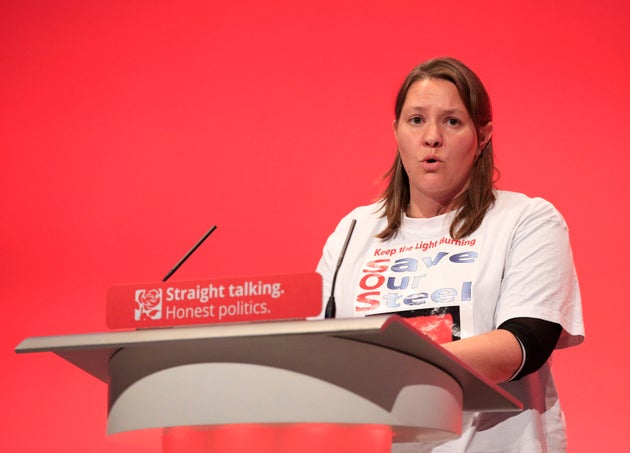 Turley says: "It's a real source of anger when the Government talks about re-nationalising and stepping in. People are asking: 'Why not us? Why did they not do everything they could for us?"
Instead of backing a rescue package and "mothballing" the Redcar site to be brought back to life, the Government set-up five "working groups", offered an £80 million support package for workers and let the plant close.
"It has been a train wreck they have allowed to drive off the cliff," the MP said, but questioned whether the Government's backing of steel would last beyond May's elections. "I won't be holding my breath for Port Talbot."
She explained the knock-on effects in Redcar have gone beyond the 2,200 job losses at the plant. An estimated 900 jobs in the supply chain have also been wiped out, with everyone from child-minders to dock workers hit.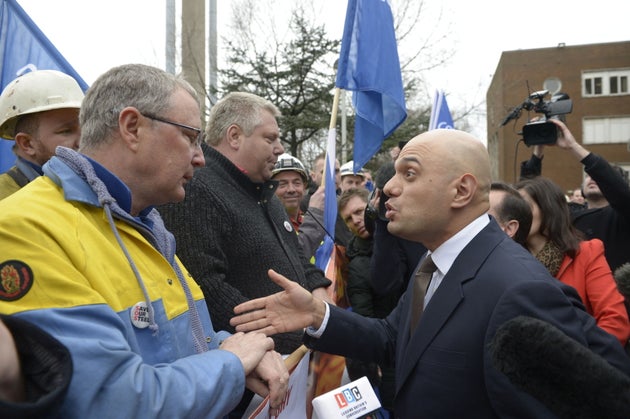 Adding that the new research is only scratching the surface, she said: "It's going to take the next generation to recover, and a lot of the knock-on effects are hidden. There are some people who aren't even claiming unemployment benefit - I've been in touch with someone on Facebook who has not left their house since the plant closed."
The Redcar plant, which produced steel for the Sydney Harbour Bridge, Wembley Stadium and Canary Wharf in London, was central to the area's economy, the MP said. The neighbouring Middlesbrough constituency has also recorded a 3.9% rise in unemployment.
She said: "It provided the only really well-paid, £40,000-a-year jobs. To get those jobs people are moving away or taking jobs in retail that pay half that amount. Port Talbot will be like Redcar in that the town is built around it. It's not like London or Manchester where you can absorb those job losses."
SUBSCRIBE AND FOLLOW
Get top stories and blog posts emailed to me each day. Newsletters may offer personalized content or advertisements.
Learn more