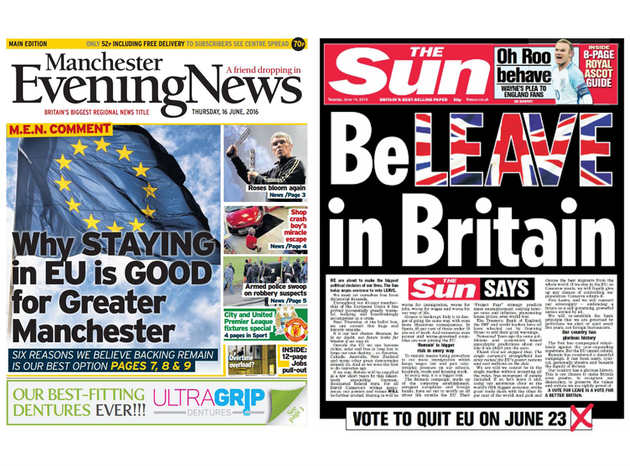 Regional newspapers are coming out in favour of staying in the European Union, urging their substantial readership to vote Leave and offset the pro-'Brexit' coverage dominating the national press.
Regional 'big beasts' including the Manchester Evening News, Liverpool Echo and The Journal in Newcastle have all declared they back Remain.
"Outside of the EU, we'd survive. But we'd be smaller, less important and easier to threaten, bully or simply ignore.

"That's not a future we want for our country. It's certainly not a future we want for future generations in Northumberland or County Durham, Tyne and Wear or the Tees Valley.

"So don't gamble with the future of our region and of our children. Vote Remain on June 23."
And the MEN gave six reasons, adding:
"EU membership affects every area of our lives, whether we like it or not - from counter-terrorism work to the price of a loaf of bread."
All three are owned by the parent company of Labour-supporting Daily Mirror.
Meanwhile, The Voice newspaper, which represents the black community, has backed Remain to "protect the rights of black workers, challenge discrimination and stop families being torn apart".
David Cameron didn't miss the chance to point this out.
The declarations come in the same week as the The Sun, Britain's biggest-selling national newspaper, pinned its colours to the mast and revealed it would favour Leave.
It was significant since The Sun has backed the winning side in every poll since it backed the Tories in the February 1974 General Election. In its typically strident editorial, The Sun said:
"If we stay, Britain will be engulfed in a few short years by this relentlessly expanding ­German dominated federal state

"The Remain campaign, made up of the corporate establishment, arrogant europhiles and foreign banks, have set out to terrify us all about life outside the EU."
Whether newspapers reflect or influence their readers has long been debated. Yet despite the economic climate they remain powerful voices.
Printed national and regional newspapers have been in sharp decline as a result of the growth of online news, though the bottom-line for regionals has been hit harder by the loss of classified advertising to the internet. The revenue stream was once declared "rivers of gold".
Regional proprietors point to surveys showing how they remain trusted sources of news, and the figures suggest they collectively continue to command million of readers - both in print and online.
The Manchester Evening News's print circulation is just over 50,000 compared to The Sun's 1.7 million. But research by Local Media Works, an arm of the News Media Association which represents regional media, suggests the industry reaches 40 million people a week in print or online.
A strong Remain voice from the regions and specialist press would be a counter-balance to the nationals. Loughborough University research has found more than three-quarters of readers of a daily newspaper are being fed stories in favour of leaving the EU.
It took a forensic look at 1,127 news stories published by ten daily papers since the start of May, and found a five-all split in terms of their pro- and anti- EU coverage. But when weighted to circulation, researchers found Leave commands a thumping 82% of the national daily newspaper readership.
However, not every publication will declare, with many preferring to stay non-partisan even in editorials. And not all that do will be Remain. The hard-left Socialist Worker has declared for Leave against fears, among others, over the UK-US trade deal.
SUBSCRIBE AND FOLLOW
Get top stories and blog posts emailed to me each day. Newsletters may offer personalized content or advertisements.
Learn more