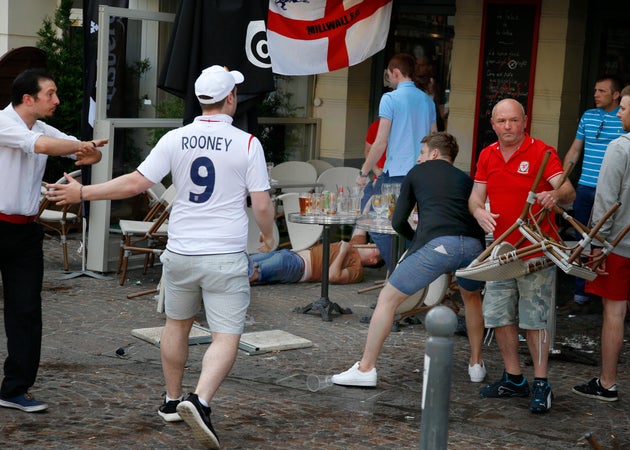 Police can be seen approaching the scene which is now reported to have calmed down.
According to the Daily Mail, two Russians were arrested in the city centre.
Some videos also showed fan chanting "fuck off Russia, we're England and Wales" and brandishing flags.
There were concerns trouble would flare as England and Russia fans are both congregating in Lille ahead of matches this week.
Russia play Slovakia in the city on Wednesday and England and Wales will face each other on Thursday in nearby Lens.
A ban on alcohol sales in Lille does not appear to have been followed by at least one shop.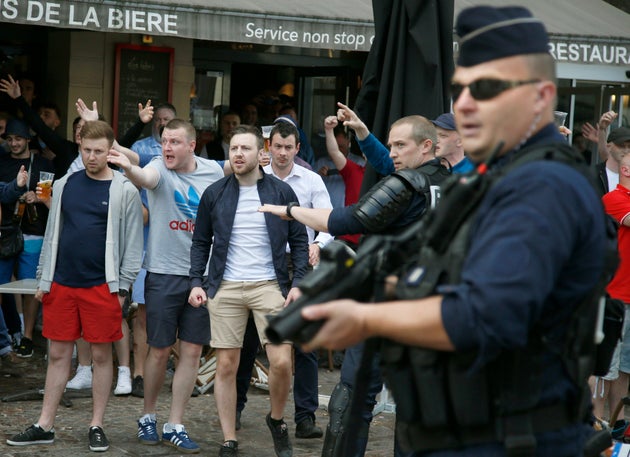 England's previous Group B game against Russia was marred by violence on the streets of Marseille and inside the Stade Velodrome.
On Tuesday footage was uploaded to YouTube showing a group of Russian men armed with metal pipes and bottles chasing down England supporters who they then beat to the ground.
Uefa threatened both teams with expulsion from the tournament following the ugly scenes.
They then gave Russia a suspended disqualification from the European championship for crowd disturbances and fined the team £119,000.
A statement from Uefa on Tuesday said: "The independent Uefa Control, Ethics and Disciplinary Body (CEDB) met today in Paris to deal with the disciplinary proceedings opened against the Russian Football Union (RFU) following the incidents which occurred inside the Stade Velodrome in Marseille, at the Uefa Euro 2016 match against England on 11 June (1-1).
"Charges relating to crowd disturbances, use of fireworks and racist behaviour had been brought against the RFU, and the CEDB decided to impose the following sanctions:
"A fine of €150,000.
"A suspended disqualification of the Russian national team from Uefa Euro 2016 for the crowd disturbances. In accordance with Article 20 of the UEFA Disciplinary Regulations, this disqualification is suspended until the end of the tournament. Such suspension will be lifted if incidents of a similar nature (crowd disturbances) happen inside the stadium at any of the remaining matches of the Russian team during the tournament."
SUBSCRIBE AND FOLLOW
Get top stories and blog posts emailed to me each day. Newsletters may offer personalized content or advertisements.
Learn more