Pick-your-own farms are a great way for children to have hands-on experience of nature in all its summer bounty. Whether it's searching out succulent strawberries nestled in straw beds or reaching up to snap off perfectly ripe sweetcorn in a maize maze, the experience will help your kids make the important connection between food that's grown fresh from the ground and food that's on their plate.
Strawberries and raspberries may be firm favourites, but pick-your-own farms also offer a huge variety of seasonal food. Blackcurrants (and white and red currants), gooseberries, elderflowers, crunchy apples from August onwards, tender new broad beans, peas, green beans and baby courgettes are just some of the produce you can enjoy picking.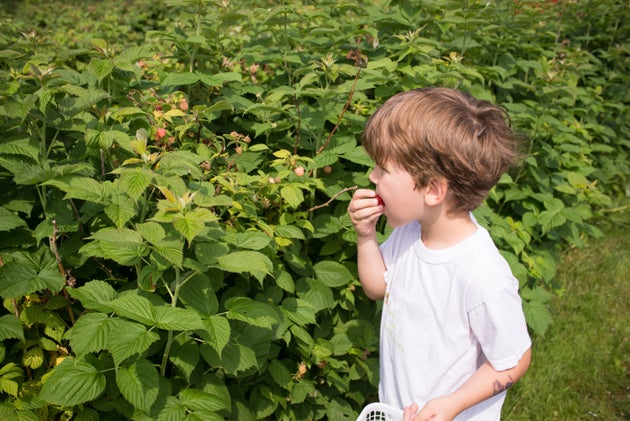 What better way to help children get their five a day than sampling some (within reason!) of the fresh fruit and veg in their little fingers, then heading home to eat heaps more and help cook up delicious summer treats, jams and jellies at home?
It's little wonder that pick-your-own farms are enjoying something of a resurgence, appealing to those of us who prefer to eat local, seasonal food packed with nutrients rather than pre-packaged produce flown thousands of miles from another country to sit on supermarket shelves. 
Days out in the summer holiday don't come more fun than wandering up and down sunny fruit fields to gather a whole glut of delicious food. Children will love being outdoors, and the competitive nature of finding the biggest and most plentiful bushes.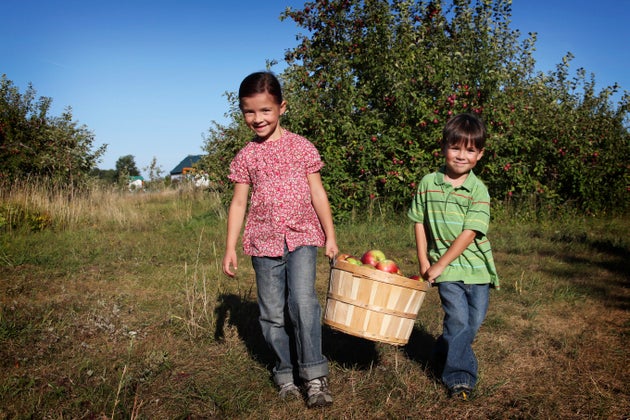 But pick-your-own also makes sound financial sense - infinitely cheaper than the supermarket, you can also freeze raspberries, blackcurrants and podded vegetables if you've overpicked and make delicious smoothies from strawberries. Remember to bring a variety of punnets or small containers, ideal for little hands to grasp, as you'll be charged for containers provided by farms.
Make a real day of your trip to a farm with a relaxing picnic. Many of the farms have other activities, like petting zones for children to get hands-on with smaller animals and adventure playgrounds to run off any leftover steam. 
Pickyourownfarms.org.uk provides a list of farms across England, Wales, Scotland and Northern Ireland with a region-by-region list to help you find your nearest PYO farm. Many of the farms are just outside towns and cities, so this isn't a fun-filled day for country dwellers only.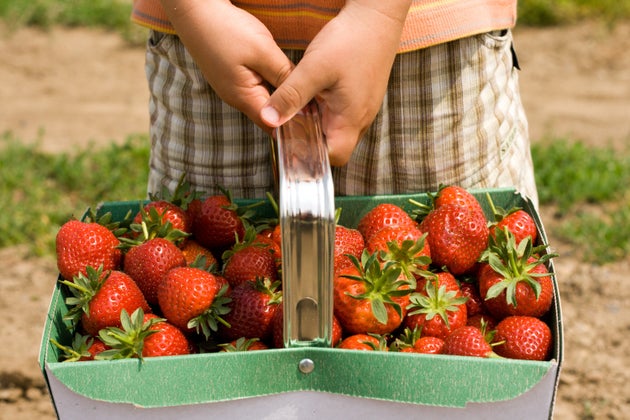 Here's a taste of a few of the farms you could visit. Check seasonal opening times and crop calendars, before visiting. 
Parkside Farm, Enfield
This rolling 50-acre, award-winning pick-your-own farm grows more than 20 different crops, from rhubarb to marrows, and is accessible from London - a train from Finsbury Park or tube to Cockfosters. There's a minimum spend of £4 per child/adult. 
Sprawled over 150 acres, this very commercial farm claims to be UK's largest PYO. You can harvest different varieties of over 30 types of fruits, vegetables and flowers between May to October.
On this stunning stretch of Scottish coastline south of Edinburgh, the Rennie family has grown strawberries and other soft fruit here since the 1980s and has extended their season to September by using polytunnels. There's a café, an outdoor play area and a shop stocking foodie treats. 
A family-run soft fruit farm for 40 years, this PYO farm also has a farm shop, cream teas and extra fun for kids with a hay bale hill to bounce on, willow domes to crawl through and sandpits to muck around in. 
On top of picking fruit and veg at this award-winning farm, kids can meet goats, pigs and ducks, plus collect freshly laid hens' eggs and burn off energy in the play area.
SUBSCRIBE TO & FOLLOW UK PARENTS