There's been a lot of criticism of 'The Jump' over the past few weeks - specifically around how dangerous it is for the celebrities who sign up for the show. 
But despite the controversy, we're grateful to still have it on our screens, mainly because it serves up moments of TV gold like this. 
As the trio took on the course, there was screaming, some comedy falls and a shock winner - it really did have everything.
Despite insisting she was terrified of the snow cross, Lydia somehow managed to win the race, after both Kadeena and Emma suffered numerous falls on their way down. 
As the 'TOWIE' star flew past them, the pair fell just metres before the finish line, desperately scrabbling to make it to the end.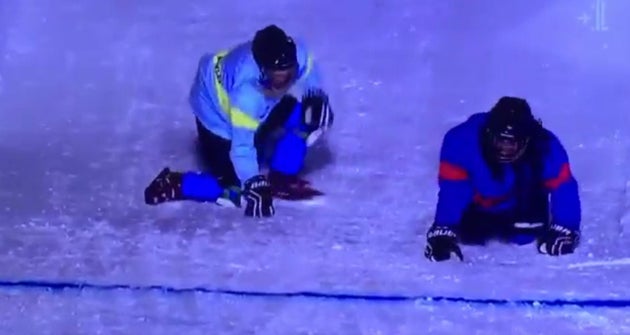 With a photo finish in the end, it was later revealed it was Kadeena who took second place, meaning Emma would have to face the dreaded titular 'Jump'.
'The Jump' continues on Sunday at 7.30pm on Channel 4. 
'The Jump': Celebrity Injuries
SUBSCRIBE TO & FOLLOW UK ENTERTAINMENT