While introducing a segment about throwing out your old tat, Angela had intended to advise viewers about "getting rid of clutter".
Unfortunately, she stumbled over the first vowel sound of the word "clutter" and… well… you can watch what happened for yourself in the above video.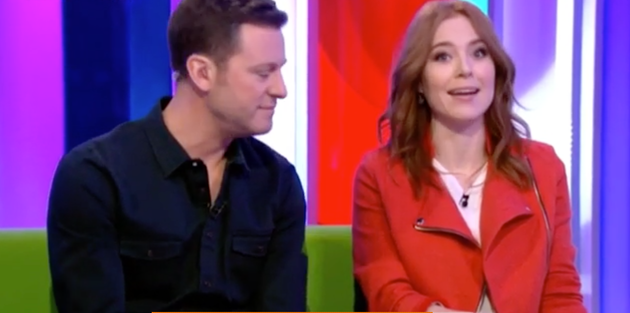 Yes, we know, it's not big and it's not clever. But it is really funny.
We have to give kudos to Matt Baker for keeping a straight face too, we don't know if we'd have managed it.
He and Angela managed to quickly brush off the gaffe as if nothing had happened, but sadly there was no sweeping it under the carpet as long as the Twittersphere had its way…
And while we're used to 'The One Show' delivering segments about wildlife, community choirs and the like, in recent times it's delivered quite a few headlines for rather cheeky behaviour on the set of the BBC show.
Last year, Jennifer Aniston's interview on 'The One Show' also raised eyebrows, largely due to a joke she made about sex toys, made all the more toe-curling because the audience was made up of children from The Rickshaw Challenge.
'The One Show' airs weeknights on BBC One from 7pm.
Accidental Daytime TV Swearing
SUBSCRIBE TO & FOLLOW UK ENTERTAINMENT