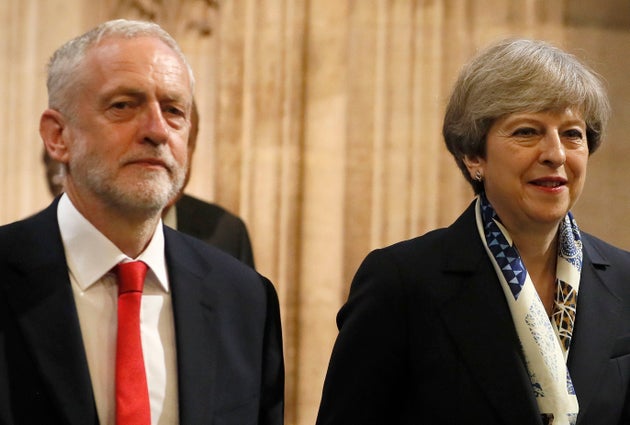 1. NO SOFT BREXIT, NO SOFT TOUCH
Jeremy Corbyn sacked three of his frontbenchers last night after they defied his orders and backed Chuka Umunna's amendment to the Queen's Speech which called for the UK to remain in the single market. Ruth Cadbury, Catherine West and Andy Slaughter all sacrificed their jobs over the vote. And shadow Transport Minister Daniel Zeichner quit just before the vote before siding with the rebels. As Paul notes, all of them represent constituencies which had strong 'Remain' votes at the referendum. A reshuffle is set to take place "within days". Corbyn, fresh from his election victory (of sorts) is not messing around.
In total, 50 Labour MPs voted against the whip to back a so-called soft Brexit. Tom Watson said the vote had been "unnecessary" and that he was "very disappointed" with Umunna. "To break away like that is politically unhelpful at a time when the entire Labour Party is buzzing because we did far better in the general election," he told Channel 4 News.
But Umunna said his fight against a "hard Brexit" would continue. "What it shows is that pro-European backbench MPs of all parties are not going to simply submit to a hard Brexit. With a hung parliament, we have a real chance in future to shape Britain's exit from the EU to protect jobs and working people."
Writing on HuffPost today, Manuel Cortes, the general secretary of TSSA, says Corbyn's approach to Brexit should include a commitment to retaining free movement. "Labour currently says that this will end when we depart the European Union but, without it, our other aspirations look almost impossible to realise," he says.
2. GRENFELL SHAME
Kensington and Chelsea Council's first cabinet meeting since the Grenfell Tower disaster was cancelled mid-session last night after its under-fire leader Nicholas Paget-Brown claimed the presence of journalists in the room would "prejudice" a forthcoming public inquiry. Those at the meeting reacted angrily with one man standing to accuse the council of "complete incompetence". 
Robert Atkinson, the Labour group leader on the council, told BBC Radio 4′s Today programme this morning: "I think it was utter chaos and I am ashamed by how the council is proceeding." And Sadiq Khan last night said the council's decision to scrap the meeting "beggars belief" and  added, "frankly speaking, it's madness".
On Wednesday evening HuffPost's Owen Bennett reported that survivors had been banned from attending because of fears of violence. Journalists then appealed for a court order to gain entry and a judge ordered the local authority to allow the media to report on the meeting. 
The Times this morning reports on emails which it says suggest cladding at the building was downgraded to save money. Sir Martin Moore-Bick, the retired Court of Appeal judge who is heading an investigation into the blaze which has claimed at least 80 lives, has warned survivors of the disaster that the inquiry might not be broad enough to satisfy everyone. He has said the focus of his investigation would likely be limited to the cause of the fire, why it spread and how it could be prevented in future.
3. BY THE SKIN OF HER TEETH
MPs voted 323 to 309 in favour of the Queen's Speech last night - a majority of just 14. But the build-up to the vote revealed how fragile Theresa May's DUP-assisted majority is.
Just hours before the vote, the government was forced to announce women from Northern Ireland would be able to have abortions carried out in England funded by the UK government. Under the current system, they have to pay. Labour MP Stella Creasy had tabled an amendment to the Queen's Speech to ensure that "all UK citizens including those from Northern Ireland may access medical services including abortion procedures in England if they so wish without charge". She told HuffPost UK that up to 40 Tory rebels had been prepared to vote in favour of her amendment raising the prospect of Theresa May's first Commons defeat since she became prime minister.Improved access to abortion for Northern Irish women was perhaps not something most people expected to emerge from the Tory-DUP deal.
Creasy's victory reveals the power of backbenchers in a hung parliament. And this this morning, The Sun reports May has agreed to end the 1% pay cap for public sector workers after 20 Tory MPs "marched on No10".
BECAUSE YOU'VE READ THIS FAR...
4. TRUMP IN SEXISM SHOCK
It's a day in the week, so Donald Trump has made a sexist comment. The president tweeted that MSNBC's Mika Brzezinski was "bleeding badly from a face-lift" around New Year's Eve. Brzezinski and Joe Scarborough, her "Morning Joe" co-host have been vocal critics of Trump's presidency.
Over on in the US, our HuffPost colleagues have spoken to the fundraising masterminds behind a man who almost, but not quite, became president instead. Bernie Sanders strategists Tim Tagaris, Robin Curran and Michael Whitney tell the inside story of how the campaign raised $218 million online. Sanders owes his historic success to a team who were invited to join the campaign just three days before his candidacy was officially announced.
5. COMMONS PEOPLE
On this week's Commons People podcast, HuffPost's Kate Forresterspoke to Nicky Morgan. In the interview the former education secretary, who has made no secret of her differences with Theresa May, warns the Conservative Party it is making a mistake to think it can win back the youth vote simply by "doing more on social media". The next Tory leader, she says, should learn the lessons of how Corbyn engaged the young, including appearing at Glastonbury. "I hope they are on stage there as much as they are on stage at the Saga conference," she says. Morgan is also critical of the Tory campaign focus on trying to paint Corbyn as a supporter of the IRA. "If you are under the age of 40, you haven't lived through that period," she says.
In this week's Commons People, which you can listen to here, the team dissect the early days of the Tory-DUP deal and also take a look at how Corbyn is viewed across the pond in New York. There is also a outrageous attempt by Owen to stitch me up for making bad predictions.
SUBSCRIBE TO & FOLLOW UK POLITICS