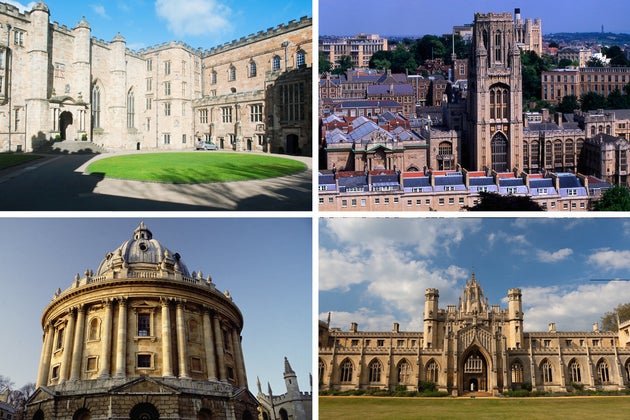 The global reputation of some of the UK's most prestigious universities is increasingly challenged by the US and Asia, a new influential survey shows.
Oxford now ranks fifth best in the world, down from third last year, while Cambridge ranks fourth, down from second.
Imperial College London, University College London, the LSE, University of Edinburgh and King's College London all had a declining reputation compared to a year ago.
Ranked: THE World Rankings Top UK Universities
Massachusetts Institute of Technology and Stanford University displaced Oxbridge at the top of the league table.
Meanwhile two British institutions left the top 100 altogether.
Bristol and Durham fell from the ranking amid a surge in the fortunes of Asian institutions.
The continent had 18 universities in the top 100, eight more than a year ago.
Phil Baty, Times Higher Education rankings editor, said: "The UK remains the second most-represented nation in this list of the most reputable universities – behind only the US – but it has lost ground this year.
"Perhaps the UK's continued cuts in higher education funding - Higher Education Funding Council for England received a £150m budget slash this year – and series of immigration measures affecting overseas students and scholars, are starting to have an impact on its global reputation."
Paul Blackmore, professor of higher education at the Policy Institute at King's College London, said Asia's rising performance is due to a combination of "undoubted growth in university systems" and "of more being known among those giving a view".
Blackmore said: "We've had a highly Anglo-Saxon view of higher education for many years and that can't be sustained for much longer."
However, a spokesperson for the organisation representing institutions, Universities UK, said: "By any international measure, the UK continues to possess, by some margin, one of the strongest university systems in the world. 
"We have the second-strongest university system in the world after the US. We excel at a global level in the quality of our research, in the attractiveness of our courses, and in the quality of our graduates."
SUBSCRIBE TO & FOLLOW UK DAILY BRIEF