The moment a mother rescued her daughter from choking on a veggie chip was caught on camera.
Jennifer Hull's one-year-old Hollis had been snacking on the chips while playing in the dollhouse with her three-year-old sister.
However Hollis got one wedged in her throat and was caught on camera running into the room gasping for air.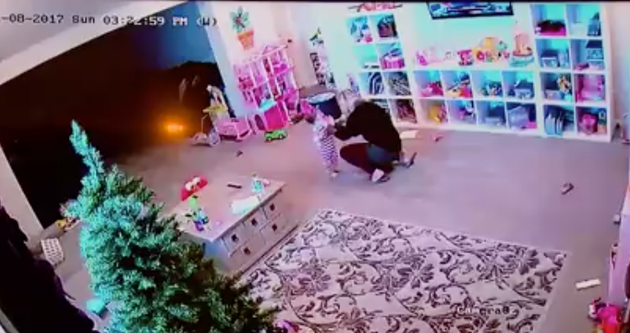 Hull immediately checked what was going on then held her daughter up and performed the Heimlich manoeuvre to remove the veggie chip.
It came out within seconds. 
"I immediately jumped into mummy mode when it happened," Hull told ABC News. "It was very scary."
The mother said she decided to share the footage as a stark reminder to all parents. She credited the infant safety classes she took during her pregnancy that taught her how to properly perform the manoeuvre.
"We sat through every class that our hospital gave," she added. "It's the least that you can do if you're going to bring a baby into the world.
"I just wish I had got to [Hollis] sooner."
According to a survey by St John's Ambulance at the time, while 40% of parents have found themselves in this awful situation, only four-fifths knew how to react.
They launched The Chokeables, where animated choking hazards (a pen lid, Jelly Baby, marble) come to life to teach parents how to potentially save their child's life - in just 40 seconds.
Also on HuffPost
Celebrity Babies Born In 2016
SUBSCRIBE TO & FOLLOW UK PARENTS