'Top Gear' is embroiled in what could be its most embarrassing faux pas yet, with claims that producers were forced to add canned laughter to last week's debut, to cover up the "stony silences" that greeted some of Chris Evans' one-liners in the studio. 
"Back to the studio, with Evans quite visibly egging on the studio audience to laugh at his jokes. The result is, bizarrely, more audible laughter at every line, even though we can't see anybody in shot behind the presenters visibly reacting to any of the gags. Most strange."  
Now, reports have emerged alleging that this was not strange at all, merely what happens if you add a canned laughter track to an otherwise silent show.
The Sun quotes one member of the crowd saying this week: "There were so many long, awkward silences. But when I watched the show back I just couldn't believe how much laughter they had added in.
"The episode made it sound as though we were in fits of hysterics throughout the recording but that is far from the truth.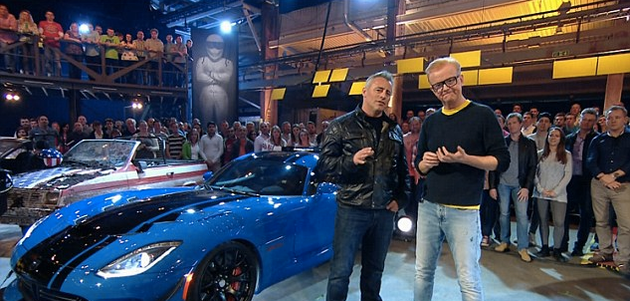 "After seeing Chris and Matt do hundreds of takes and spiel out horrendous jokes for four hours straight we were all bored out of our minds — not in stitches like they made it seem in Sunday's show."
We should add we weren't the only ones to spot the discrepancy, with many viewers complaining on Twitter, although it delighted a few. Jason Linsel said: "The best part of #TopGear is the canned laughter when you can clearly see that nobody's laughing".
A BBC spokesperson last night refused to comment.
Tap the first picture below to open the slideshow:
Top Gear: The Story So Far...
SUBSCRIBE TO & FOLLOW UK ENTERTAINMENT