He was removed on a stretcher by officials after he fainted during the lengthy ceremony on Saturday morning.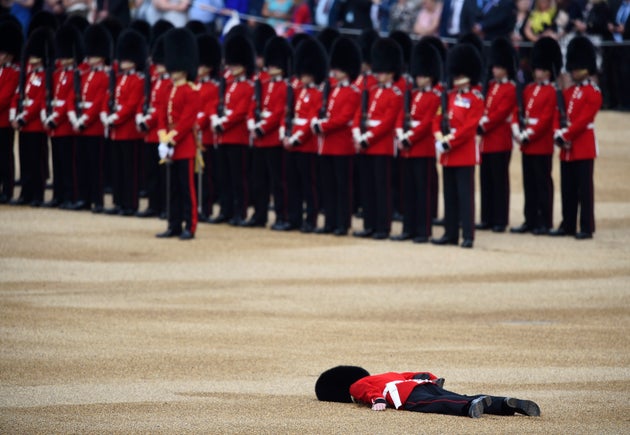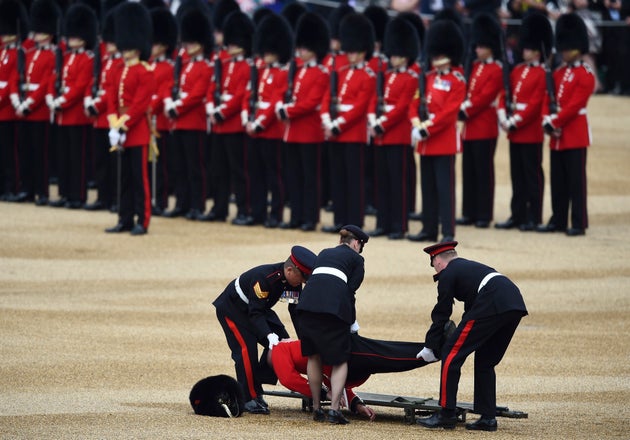 The military spectacle – also known as the Queen's Birthday Parade - is part of a weekend-long series of celebrations marking the Queen's Birthday, and follows Friday's poignant national service of thanksgiving at St Paul's Cathedral, and on Sunday the informal Patron's Lunch street party for 10,000 will be held in The Mall.
Staged on Horse Guards Parade in Whitehall – Henry VIII's former jousting yard – Trooping the Colour is one of the great state and social occasions and features almost 1,500 soldiers and officers on parade and 300 horses, according to the Press Association.
The Queen and the Duke of Edinburgh arrived in a vintage carriage from Buckingham Palace, having travelled along The Mall to Horse Guards Parade.
Carriages carred other members of the Royal Family attending the event including the Duchess of Cambridge, the Duchess of Cornwall and Prince Harry, and the Duke of York and his daughters Princesses Beatrice and Eugenie.
The Prince of Wales, who is Colonel of the Welsh Guards, the Princess Royal, Colonel of the Blues and Royals, and the Duke of Cambridge, Colonel of the Irish Guards, were on horseback.
Story continues below images...
The procession was accompanied by a Sovereign's Escort of the Household Cavalry, made up of Life Guards and Blues and Royals, in their silver and gold breastplates and plumed helmets.
The Colour being paraded on Horse Guards this year is the flag of Number 7 Company Coldstream Guards - the unit last performed this special role in 2007.
The Massed Bands of the Household Division and the Mounted Band of the Household Cavalry also take part, as will the King's Troop Royal Horse Artillery who, following the parade, will fire a 41-gun salute in Green Park to mark the Queen's official birthday.
After the Queen takes the salute on Horse Guards, the Royal Family will head back to Buckingham Palace and gather on the balcony to watch the RAF fly-past.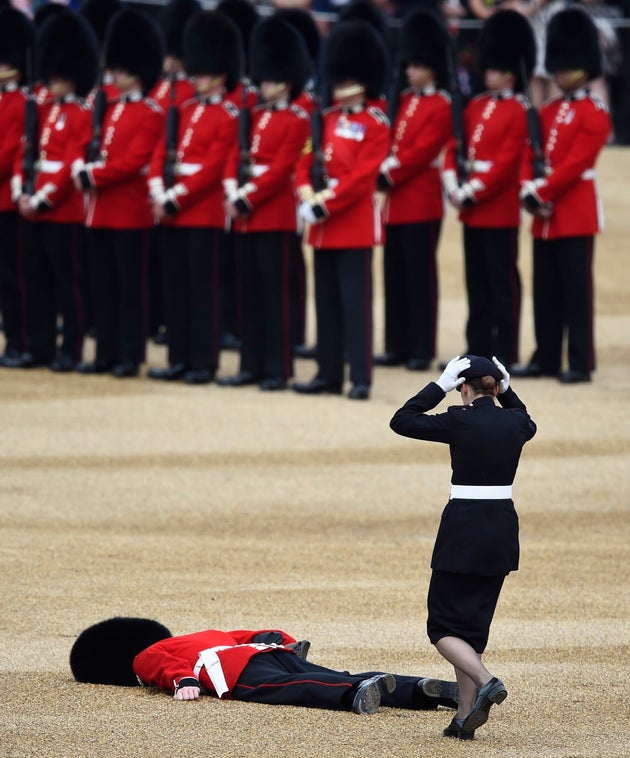 Among the 29 aircraft taking part are a Spitfire and Hurricane, made famous in the Battle of Britain, and also modern jets like the multi-role Typhoon fighter while the Red Arrows will be the finale.
In honour of the royal birthday pubs can stay open for an extra two hours on Saturday night to give drinkers more time to celebrate the Queen's milestone.
The origins of Trooping the Colour lie centuries in the past when the colours, or military flag, of a regiment would be carried or "trooped" down the ranks so the soldiers would recognise it.
During George II's reign it was ordered in 1748 that the ceremony of Trooping the Colour should mark the official birthday of the sovereign, and the parade became an annual event after George III became king in 1760.
The Queen's actual birthday was on April 21, when she turned 90.
SUBSCRIBE TO & FOLLOW UK DAILY BRIEF