The immigration curbs sparked chaos across the US over the weekend as travellers  - one reportedly as young as five - were detained at airports and thousands of protesters gathered to campaign against the policy.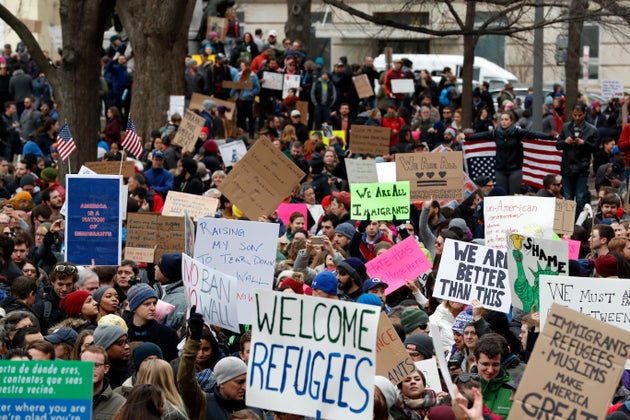 Here are some businesses and high profile individuals who responded to the order with kindness...
1. Starbucks
Howard Schultz, the coffee retailer's chairman and CEO, said in a letter to employees on Sunday that the hiring would apply to stores worldwide and the effort would start in the United States where the focus would be on hiring immigrants "who have served with US troops as interpreters and support personnel".
2. Airbnb
3. Lawyers
Around the US, there were reports of lawyers turning up at airports to offer their services for free.
4. Rideshare app company Lyft
Uber faced a huge backlash at the weekend when it switched off surge pricing at New Yorks' JFK Airport, which appeared to undermine solidarity efforts among taxi drivers and demonstrators by encouraging the strike to be broken.
A campaign encouraging people to voice their displeasure at the move saw a #DeleteUber campaign sweep social media.
But the previously less popular rideshare app Lyft took the opposite approach.
The firm donated $1 million to the American Civil Liberties Union (ACLU), which has already successfully challenged parts of the travel ban in court and is continuing to fight against it.
5. Justin Trudeau
The Canadian prime minister drew widespread praise for a number of his messages of support and solidarity with refugees:
6. Nicola Sturgeon
The Scottish first minister quickly followed Trudeau's example:
7. Mark Zuckerberg
The Facebook founder and CEO explained that he was concerned about Trump's executive order and urged the US to welcome refugees:
8. Twitter
The social media platform also tweeted a message of solidarity:
SUBSCRIBE TO & FOLLOW UK DAILY BRIEF