Ukip's only MP blasted Nigel Farage's infamous 'Breaking Point' poster as "morally wrong" this evening,
In further evidence of the split between the party leader and Ukip's only parliamentarian, Douglas Carswell slammed Farage for using "angry nativism" to try and win the referendum.
The 'Breaking Point' poster was condemned by politicians on both sides of the EU Referendum debate, with Vote Leave's Michael Gove saying he "shuddered" when he saw the image.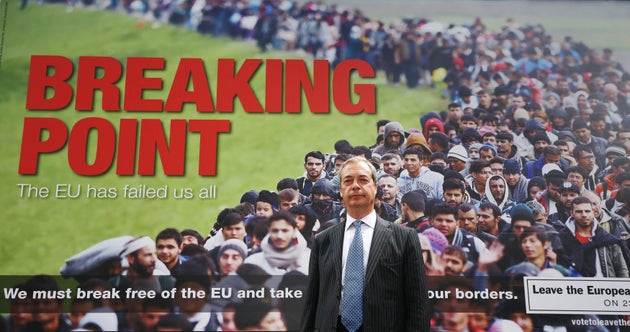 Ukip's deputy leader Paul Nuttall said he would not have gone ahead with the poster, but Farage has remained defiant, claiming it shows "the truth".
Speaking on the BBC just minutes after Farage predicted Remain had won today's vote, Carswell said: "I think it was fundamentally the wrong thing to do and let me say why: I think it was morally the wrong thing to do.
"Using a picture of people who had fled from war in Syria, going to Slovakia, had nothing to do with the United Kingdom."
He went on: "Angry nativism doesn't win elections in this country."
When asked about the future of Ukip, the Clacton MP said: "We need change, but the way to appeal to decent-minded people who want change is not by whipping up some sense of 'the other'."
Carswell said he would "absolutely not" seek to be party leader, adding: "It would be bad for me and incidentally it would be pretty disastrous for Ukip."
SUBSCRIBE AND FOLLOW
Get top stories and blog posts emailed to me each day. Newsletters may offer personalized content or advertisements.
Learn more