Warning: This article contains images readers may find upsetting.
A Foreign Office minister has been photographed trying to resuscitate a police officer killed during the attack on Westminster.
Tobias Ellwood, Conservative MP for Bournemouth East, was seen performing CPR on PC Keith Palmer in the grounds of Parliament.
The photographs show Ellwood, a former armed serviceman with The Royal Green Jackets, with blood across his face. His brother, Jon, died in the 2002 Bali bombings.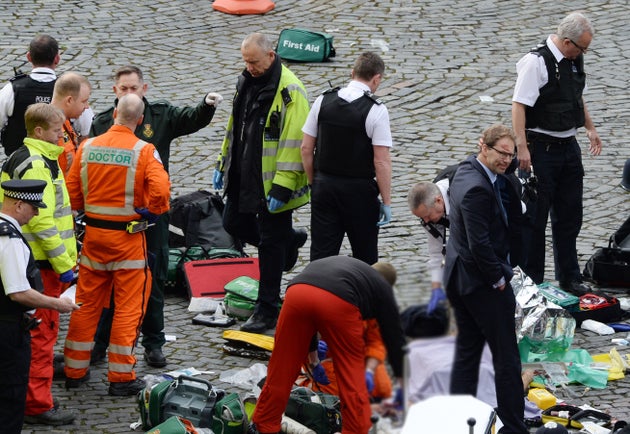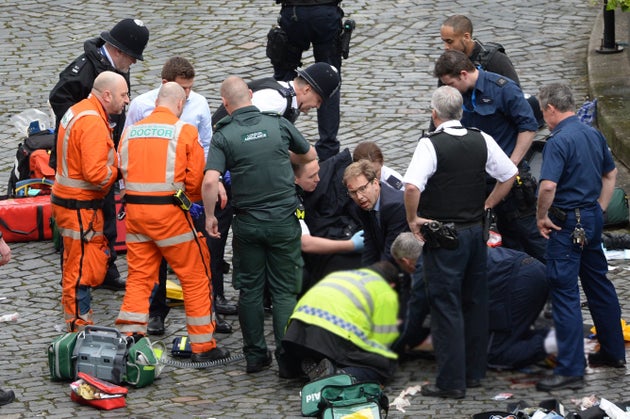 The police officer appeared to be covered by grey blankets soon after. It was later confirmed the 48-year-old had died.
Gunfire was heard just before 3pm near Parliament, with a government minister confirming a police officer was stabbed and the assailant shot by armed police.
Police have confirmed the incident is being treated as terror related.
There are reports of further violent incidents nearby, and police say they have been called to a firearms incident on nearby Westminster Bridge.
One woman reportedly died with many others suffering "catastrophic" injuries on the bridge, according to a first-responder who spoke to reporters.
Who is Tobias Ellwood?
Ellwood was elected as Member of Parliament for Bournemouth East in May 2005, and subsequently re-elected in 2010 and 2015, his website said.
He is currently Parliamentary Under Secretary of State at the Foreign and Commonwealth Office with special responsibility for the Middle East and Africa.
He spent six years in the Regular Army with The Royal Green Jackets, head quartered in Winchester, and served in Northern Ireland, Cyprus, Kuwait, Germany, Gibraltar and Bosnia.
Ellwood's brother was killed in the second of two blasts that tore through the night club area of Kuta in Bali. Ellwood went to the country to retrieve his brother's body.
He later told the BBC: "I had to do many of those things myself to the point where I ended up screwing the lid down on the coffin myself. That can't be right."
SUBSCRIBE TO & FOLLOW UK DAILY BRIEF