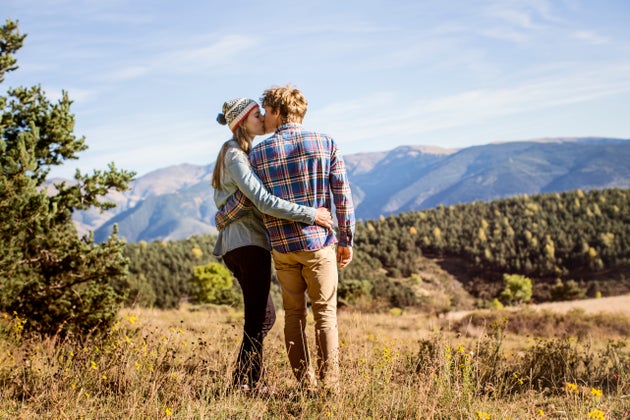 If you're getting on each other's nerves, arguing, and finding yourselves talking only about work, family and household chores, then a change of scenery can do wonders. Getting the time and space to really focus on each other and reconnect can remind you of all the amazing reasons you got together with each other in the first place.
As long as your issues aren't serious, it's easy to get your relationship mojo back in just one or two weeks, and have an absolute blast doing it. Here's how...
Ramp up the love in Costa Rica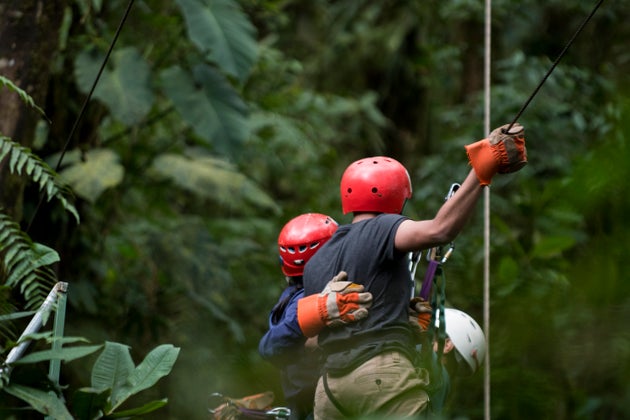 It's a scientific fact that doing something scary together - crossing a rickety bridge or white water rafting through the jungle - makes you and your partner more attracted to each other. Brain chemicals released during extreme sports are the same as the ones responsible for that heart-racing, breathless, tingling excitement of your first dates. And there are few countries better set up for adrenalin-fuelled activities than Costa Rica. Soar above the Monteverde cloud forest on a zip wire, abseil down a waterfall, shoot jungle rapids in just an inflated inner tube and tiptoe across 'not for the faint-hearted' rainforest suspension bridges. Look firmly into each other's eyes (not down) and feel that surge of love when it's all over.
Experience whale-sized passion in South Africa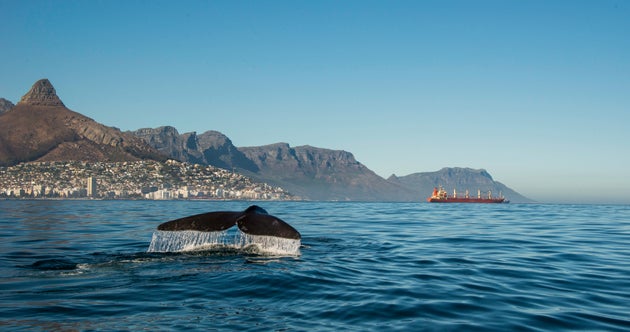 If you both love getting up close and personal with the natural world, the Western Cape of South Africa is the place to rekindle mutual love. There's nature everywhere, from tiny penguins on the beach to pairs of mighty southern right whales passionately churning the ocean, from July to October. South of Cape Town, all along the Garden Route, you'll find the world's best land-based whale watching. Inland, the delightful Karoo National Park offers intimate safaris and game drives that celebrate South Africa's smaller, but no less fascinating wildlife: black wildebeest, klipspringers, gemsbok and at least 200 bird species. And nothing rekindles romance like petting a rescued baby elephant. Pop into the Knysna Elephant Park and spend time with their sanctuary elephants.
Have a laugh in India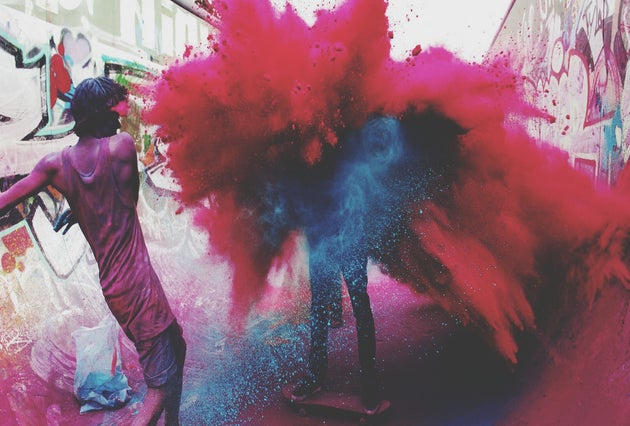 A jaded relationship can result in sense of humour failure. Laughter helps restore 'a positive emotional climate and a sense of connection between two people'. To help put the sparkle back, choose a destination where you can both belly laugh. India is renowned for good humour and a warm welcome. A rib-tickling place to start your therapy is a Laughter Yoga session on Chowpatty Beach in Mumbai. You'll be encouraged to chuckle and giggle while performing yoga movements. Soon you'll be roaring with infectious mirth, tears running down your cheeks. And if laughter yoga isn't enough, throw handfuls of colourful powder paint over each other at the Holi Festival (Festival of Colour) at the end of winter. It's hard to keep a straight face when you're both lurid pink.
Go Dutch on culture in Amsterdam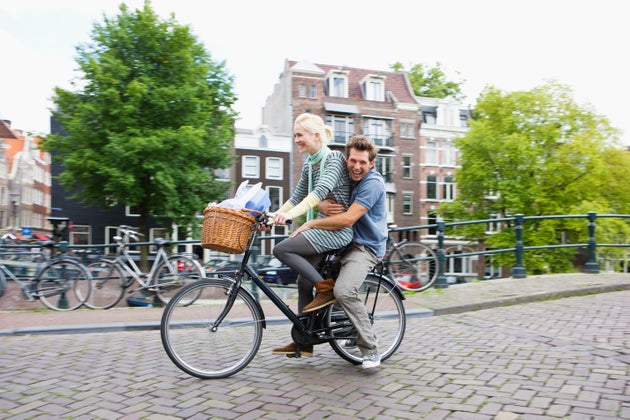 Remember your early courtship days? Lazy weekends spent wandering between coffee shops and flea markets, with the odd museum visit or art exhibition thrown in? If you've been lacking highbrow conversation recently, it's hard to beat Amsterdam for topics. Not only can you cycle through the magnificent Rijksmuseum, home of Dutch masters, and enter the secret annexe in the moving Anne Frank House, there are smaller gems to discover. The KattenKabinett is an art museum devoted entirely to cats, featuring works by Rembrandt and Picasso. And feel the pain of sailors' wives tearfully waving their husbands off to sea at the Schreierstoren, or 'Weeping Tower'.  Of course, Amsterdam has a whole host of other pleasures to put the sparkle back into your relationship, but we leave you to discover those for yourselves.
Try rude food in Nice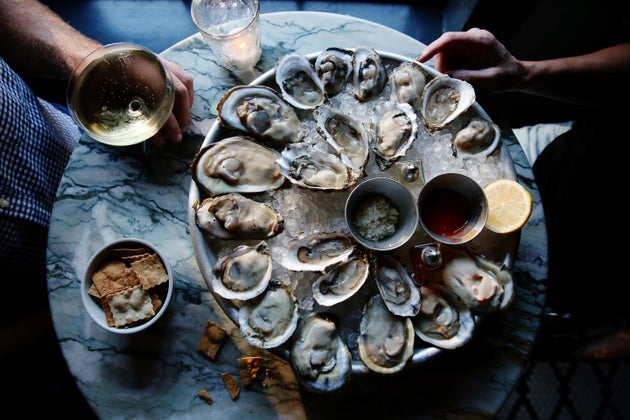 Enjoying luxurious food together, the messier the better, is a great way to rekindle your relationship. Oysters are supposed to have aphrodisiac properties, although it's probably more about the suggestive way you eat them. You'll find the finest oysters along the French Riviera, particularly in Nice. Push the boat out and order a plateau de fruits de mer in one of Nice's fabulous fish restaurants – a glorious heap of crustaceans including crab, lobster, langoustines, oysters, winkles, mussels, clams and whelks. You've no choice but to tackle this spiky array with nutcrackers, pins and your bare hands – an undeniably sensual experience. Wash it all down with a well-chosen, chilled Muscadet.  
Luxuriate in Iceland's natural hot tubs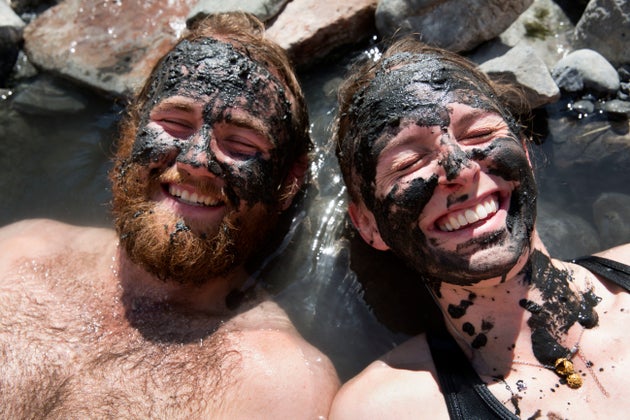 Bored of the jacuzzi at the leisure centre? Fancy luxuriating in a natural hot spring with bonus spectacular scenery? Then Iceland's many geothermal pools are for you. Give the popular, crowded Blue Lagoon a miss and head for more challenging Landmannalaugar, set on a stark gravel plain in the southern Highlands. The hot water seeps from under a 700-year-old lava flow, and the cold comes from a chilly spring. With no convenient mixer tap, you tiptoe upstream to where the hot and cold currents mingle and find a spot that's your perfect temperature. Iceland even has a hot pool deep inside a cave – Grjótagjá -  if you're not claustrophobic.
SUBSCRIBE TO & FOLLOW UK LIFESTYLE