Yesterday's announcement of the introduction of equal marriage was completely overshadowed by the fact that members of the Church of England would be excluded from the plans from the offset.
In an attempt to ring home the bells of true equality, the Tory plans have instead created a subsection community, offering different levels of freedom depending on what part of society one fits.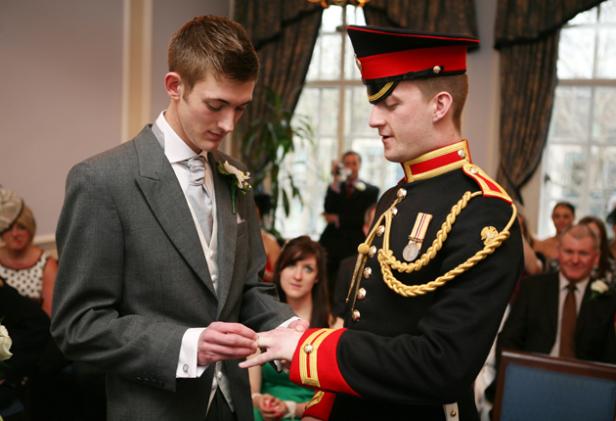 The Author at his Civil Partnership in March 2010.
By being born into the Church of England and then duly christened a member before I can even remember, I'm now automatically excluded from the Equal Marriage plans leaving me in exactly the same place I was before the announcement.
I don't ever remember having the choice to becoming a member of the Church of England. Whilst serving in Iraq I remember looking down at my 'Dog Tags' and seeing the letters 'CoE' inscribed just below my blood group and thinking, how the hell did this happen? I guess it was just a natural thing, just part of who I am... a lot like my sexuality.
Of course, I could take a civil marriage in a non-religious setting, and one has to consider whether one wants to celebrate such an important occasion in an environment that on the whole has been generally hostile towards the gay community, but to simply be expelled from the plans before they've been properly introduced is unfair and outrageous.
The term 'equality' means, believe it or not... EQUAL!
People in every part of society should be offered the same opportunities. Everyone should be treated FAIRLY and with RESPECT. The Government should't be setting different bars in equality. One rule for some, one rule for others.
I'm baffled that the Catholic Church in England and Wales will now at least have the opportunity to celebrate same sex marriage, which is incredible and I hope the powers that run such organisation embrace the offer.
The Church of England, by kicking off enough of a fuss over the plans mostly through its C4M campaign, have placed enough pressure on the government for them to buckle under the stress and will now remain in the dark ages as far as modern equality is concerned.
Frankly, the Church of England has continued to push itself into its corner of discrimination. Woman bishops. Gay marriage. What next? Disabled people?
And after the results of the 2011 census have revealed that Christianity in the UK is now less popular than it was 10 years ago, I'm left thinking... How relevant is the Church of England today?
By basing values on an ancient text that's over two thousand years old, the organisation is digging it's heels into the mud and refusing to move with the times.
What do we really expect from a bunch of people who believe the earth was created in 7 days?
This Blogger's Books and Other Items from...
SUBSCRIBE TO & FOLLOW UK POLITICS