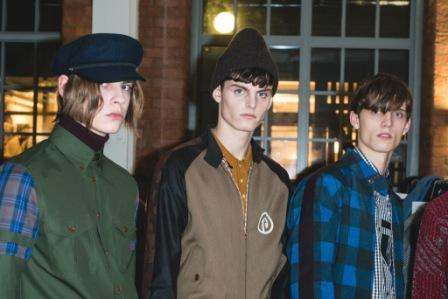 Models Backstage wearing Ben Sherman at their Autumn Winter 2017 Catwalk Show The Vinyl Factory store in London's West End [Photo Credit: Mehul Derodra]
The British Fashion Council present Autumn Winter 2017 Menswear collections as we give you our favourite edit of the shows this week from front row.
Ben Sherman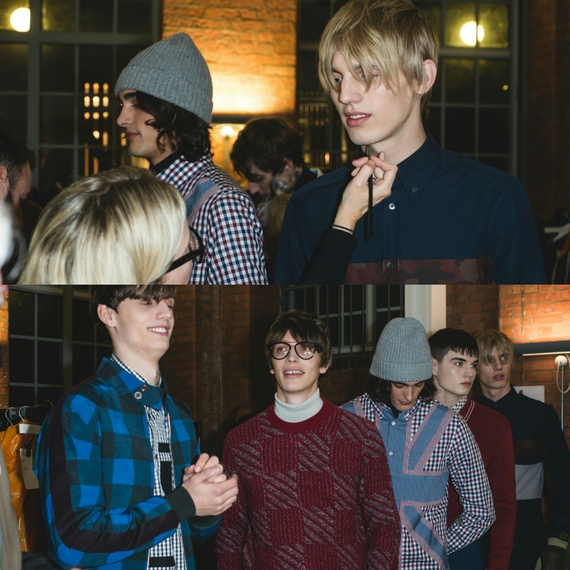 Spirit of Mod squad comes to town at the Ben Sherman Autumn Winter 2017 show as we take a sneak peek pre-show backstage to see behind the scenes footage. [Photo: Mehul Derodra]
Ben Sherman's collection explored the sixties mod culture as models walked the runway in flat caps and beanie hats.
Fitted tailoring came in single and double breasted suit styles kept it minimally cool with skinny ties and tapered trousers.
Interesting patterns adorned textures on knitwear contrast well together worn with bold accessories were an interesting combination and colour palette.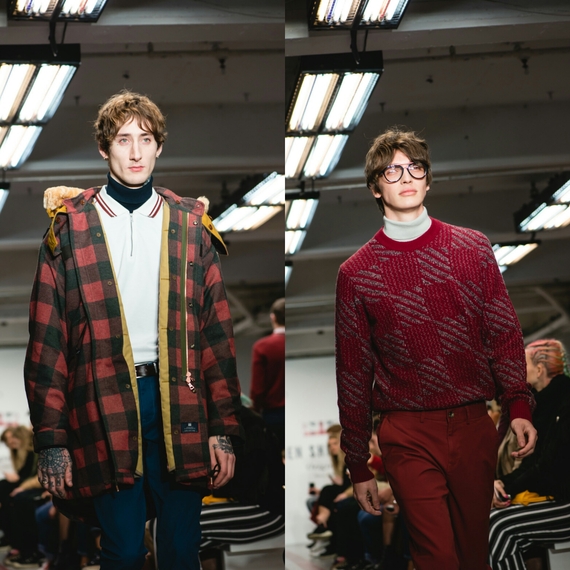 Models featured walking the catwalk for Ben Sherman Autumn Winter 2017 at The Vinyl Factory [Photo: Mehul Derodra ]
Throughout the range Parker coats popped up as a signature look as well as cropped jackets worn with smart roll neck knitwear emphasized the key looks by dressing them up slightly as smart casual chic.
Models (Left) Ryan Barrett and (Right) Harry Rowley at Models 1 attend the Ben Sherman After Party! [Photo: Mehul Derodra ]
Debonair Man About Town: Samuel Harwood at Models 1 attends the Ben Sherman show with Ryan Barrett and Harry Rowley (Above) [Photo: Mehul Derodra ]
Casely Hayford
Following on from Private White V.C.'s collection during mens fashion week designer capes seem to be appearing this season on the runway also at Casely Hayford with their quirky structured jacket pieces.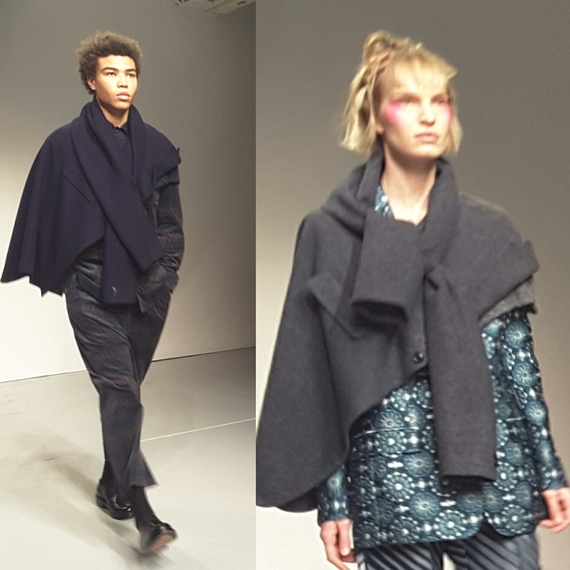 Designer capes for both Menswear and Womenswear hit the catwalk at Casely Hayford's Autumn Winter 2017 collection at LFW Men [ Photo: instagram / feed_my_fashionego_ ]
Clean lines on garments kept it minimal and contemporary for ready to wear this season as structured tailoring dominates a strong style statement for menswear.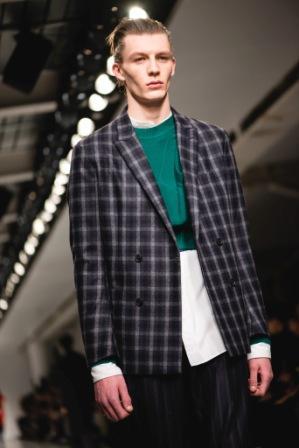 Style! Alert: Model seen at Casely Hayford sporting a check blazer is this seasons hot new trend as seen aslo at Chester Barrie and Oliver Spencer this week [ Photo:Mehul Derodra ]
Alongside male pieces in the collection, Casely Hayford showcased a womenswear line where panelled jackets with contrasting fabric portrayed softness as well masculinity.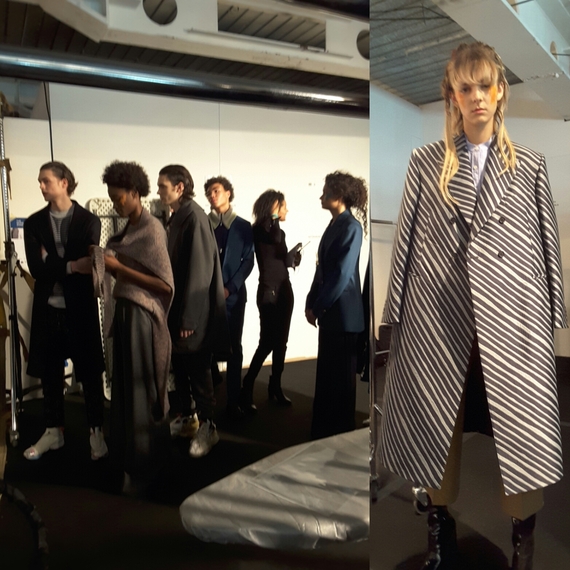 Models Backstage in final line up at Casely Hayford Autumn Winter 2017 - A model wears a signature jacket piece from the collection [Photo: instagram / feed_my_fashionego_ ]
The bold print statement jacket in the collection with monochromatic black and white stripes set itself apart as the main statement piece for Autumn Winter 2017.
Ximonlee
GQ China was proud to present German based Chinese born Korean designer Ximonlee at London Fashion Week Men's Autumn Winter 2017, this marks GQ China's 8th season at Mens Fashion Week where the British Fashion Council provide designers with International exposure to the western market.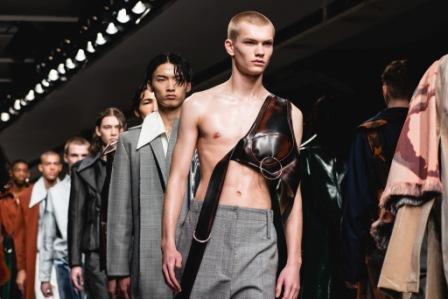 The final walk at Ximonlee Autumn Winter 2017 as models parade on the Catwalk [Photo: Mehul Derodra ]
Ximonlee's signature style explores sustainable concept which is inspired this season by the Chinese symbol of shame exploring a combination of symbols that represent beauty and ugly.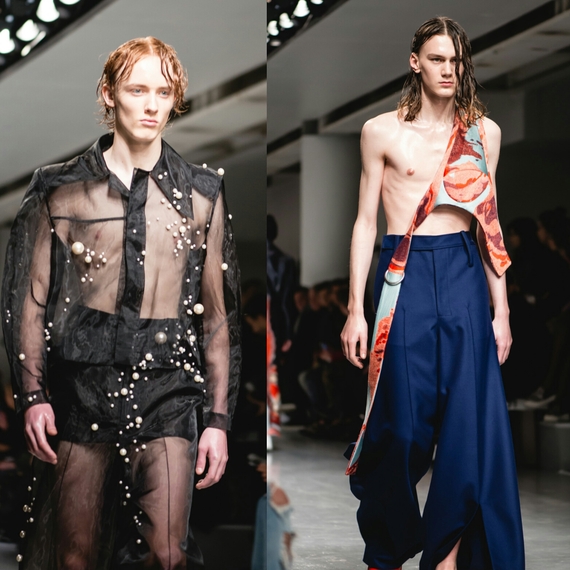 Model wears outfit with clusters of beaded pearls on sheer panels. Other model is pictured wearing a tapered corset hiding the body or revealing the same body through engineered cut-aways [Photo: Mehul Derodra ]
The collection pieces reveal engineered fitted and cut-away silhouettes conveying hidden signals or messages such as tapered corsets hiding the body or exposing it. Treated materials applied to the collection were deconstructed leather bras mixed with bonded velvet coats hinting at the leg through high slits. Fine exquisite detailing include a series of nude figures that are woven into bloodstained and aged bronzed brocade.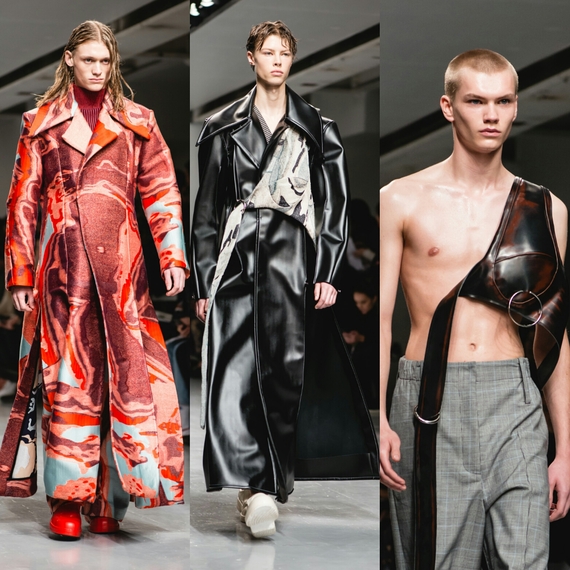 Ximonlee's meticulous attention to detail and innovative work has brought him the international spotlight of prestige amongst the fashion elite with an LVMH prize showroom in Paris and collaboration with H & M for a capsule collection.
SUBSCRIBE TO & FOLLOW UK STYLE